Beautiful Trout, Nasty Weather
by Bill Becher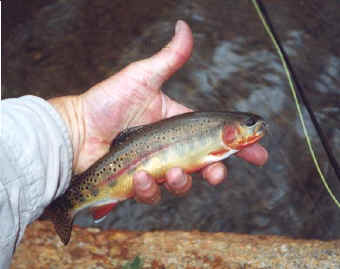 Pretty fish!
In mid July 1999 I fished the Golden Trout Wilderness from Horseshoe Meadows west of Lone Pine. This time only neo fly-fisher Taylor Burch and I hiked with our packs the 5.5 or so miles to the Cottonwood Lakes, after driving up in the Winnie and spending a night to help acclimatize to the altitude. The trailhead is high, starting at about 10,000 feet. With first Cottonwood Lake less than a thousand feet above this, the climb in is not too bad.
In 1918, the California Department of Fish and Game began using the Cottonwood Lakes as breeding ponds for Volcano Creek Golden Trout (Oncorhynchus mykiss aquabonita), the official state fish. (For more information about the goldens in Cottonwood,
click here. NEW). In 1966 the DFG put all but the least-accessible lake, Cottonwood 5, off limits to protect the breeding stock. Catch and release fishing was instituted in 1998 on Cottonwood 1-4 from July 1 to Oct 31. (as of when this is written, but check current regs. before you go). According to the DF&G, "within its native range, Volcano Creek golden trout is at risk due to threats of hybridization particularly with rainbow trout, predation, interspecific competition, and habitat degradation." To address this situation, the Department, along with the Inyo National Forest, and the US Fish and Wildlife Service have formulated a plan to preserve the genetic integrity of the golden trout. For more info about the plan, click here.
I had spoken to Steve Parmenter, a Fisheries Biologist in Bishop, about the Cottonwood Lakes. He mentioned that the fish eat Gammarus, a scud, and that he had had success from a float tube using sink tip line and a scud imitation. I had planned on taking a stomach pump and reporting on trout puke samples, but due to CRS, I couldn't find it, and lost the opportunity to add to science. Maybe next time.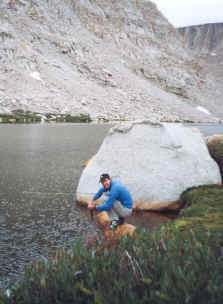 Taylor landing his first golden trout
This is not a trip if you want solitude. We found a nice campsite by Cottonwood #4, but were fairly close to a large packer party. Fish were rising in the darker (vegetation?) areas of the lake. They responded well to a #18 Parachute Adams. The fish we caught were in the 6-10" range, brightly colored - they could easily be called Crimson Trout for their bright red bellies. It appeared that they were taking a tiny black midge in the emerger stage (rise forms were usually not breaking the surface).
Note: if you go when we did, be sure to bring plenty of bug repellant, as the mosquito hatch is prolific! We had freeze dried "Eco Chili" for lunch. I asked Taylor what he thought "eco" meant in this context, and he said, "It means it's not going to taste very good." He was right.
The weather Friday night turned nasty, going from light sprinkles at 10 p.m. to a full on thunderstorm with light and thunder show by midnight. Fortunately our gear worked and we stayed dry.
The next morning we hiked up to New Army Pass, at about 12,300 feet. This is the boundary with Sequoia National Park. Taylor continued on to Mt. Langley (14,027 ft.) , but had to turn back due to deteriorating weather and visibility. I checked out the other lakes along the trail back to Cottonwood 4. Weather again turned to rain, but ended by late afternoon, in time for us to dry out a bit.
Fishing in the evening was good. I tried a #14 Stimulator as an indicator fly, with a CDC Jimmy Toy Special as a dropper. Fish took both flies.
The next morning we fished Cottonwood 1, where the fish were more selective. Taylor landed one on a Brooks Sprout Midge Emerger, and I caught fish on both a #20 Black Gnat and glass bead head midge emerger dropper.
Next time we plan to bring a float tube and really explore these productive lakes and their colorful fish!
(More pictures to follow)...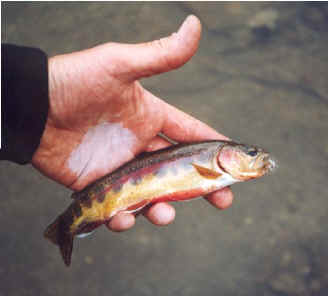 Adams sucking golden

If You're Going to Cottonwood Lakes

Getting There: From Lone Pine, drive west on Whitney Portal Road 3.5 miles to Horseshoe Meadow Road and turn left. Continue 20 miles to the Cottonwood Lakes trailhead (not the nearby Horseshoe Meadow trailhead). The paved road is usually open May through October. Watch for large falling rocks on the road, they're not kidding about this.
Fishing: A California fishing license is required. Fishing is open July 1 to October 31. Cottonwood Lakes 1, 2, 3, and 4 are catch-and-release only and require artificial lures or flies with barbless hooks. There is a five-fish limit at Cottonwood 5. Fish seem to respond well to usual High Sierra lake flies such as mosquito, Adams, Sierra Bright Dot, etc. Or you can try a more specific hatch match with small, dark hackled midges and emergers. Try scuds too (see article).
Hiking: A wilderness permit is required for all overnight stays. Call 760 938 3277 for reservations. Fires are prohibited in the Cottonwood Lakes area. Proper food storage to deter bears (bear canisters, bear-bagging, etc.) is required by federal law. We used a canister, as many bears have figured out how to get at even counter balanced hanging food.
Maps: Cottonwood Basin is found on the Cirque Peak and Mt. Langley 7.5-minute USGS topos.
Information: Inyo National Forest Mt.Whitney Ranger Station (760) 876-6200 P.O. Box 8
Lone Pine, CA 93545 Highway 395 at the south end of Lone Pine

Websites:
official Inyo National Forest site is http://www.r5.fs.fed.us/inyo/ (lots of good info here).
commercial sites: http://www.sierrawilderness.com/ Info about the Sierra Backcountry and http://www.gorp.com/gorp/resource/US_National_Forest/ca_inyo.HTM Great Outdoors Recreational Pages (GORP).