Bill and Jane Becher put 2,800 miles on the Winnie driving to Grand Teton and Yellowstone National Parks and then across Nevada, down 395 with a stop in Mammoth.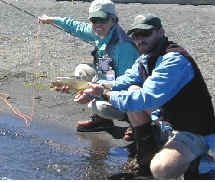 Jane Becher and guide Mike Siem with Yellowstone Cutt
We fished Yellowstone with guide Mike Siem from Blue Ribbon Flies in West Yellowstone. Mike is a https://experience.tripster.ru/tours/russia/kaliningradskaya_oblast/svetlogorsk/ and knowledgeable guide and the shop is well stocked and helpful to visitors.
Jane caught a nice cutthroat during the Callibaetis hatch on Yellowstone. We were fishing dry flies, cripples and spinner Callibaetis patterns to fish that were cruising the shoreline.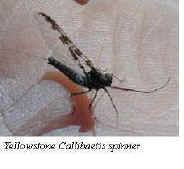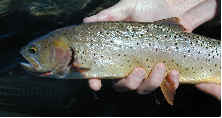 Yellowstone Cutt
Later we fished to more cutts in the Yellowstone River below Buffalo Ford, where we got to see a bison ford the river. We sight nymphed some nice fish, and then drove to the headwaters of the Gibon River (actually a small creek at that point) where we fished big Royal Wulff's to small but hungry brookies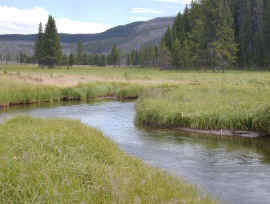 Gibon River in Yellowstone
Bill hiked the five miles to the "Second Meadow" at Slough Creek (where Bob Kieling and party had fished the week before). Fishing was challenging, but a few fish hit on emergers. We camped at the Slough Creek Campground and saw a mother bear and her 2 cubs.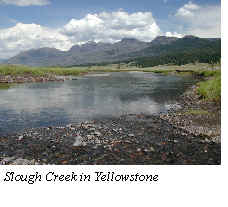 We spent a night at Raynold's Pass Bridge on the Madison. The Montana Department of Fish, Game, and Parks maintains fishermen's access spots that are defacto free campgrounds with toilet facilities. California DFG should check this out.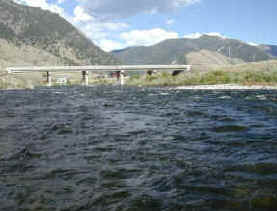 Raynolds Pass Bridge on the Madison River
Fishing was fair for rainbows in the slower "slicks" in this fast moving "50 Mile Riffle".
We decided to go back home via Northern Nevada and spend a night in Mammoth. Fishing was great on Hot Creek during a caddis hatch, and we enjoyed watching a great sunset. There's no place like home....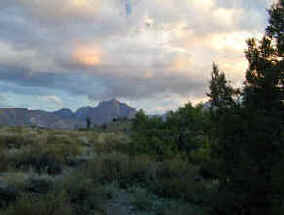 Hot Creek Sunset