CVFF members Larry Martin and Joe Richey visited Montana in August.
Here is Larry Martin's report:
(Click on thumbnails to see larger image)

Martin Creek (E. Fork of Bitterroot)
Joe Ritchey and Larry Martin launched out of Camarillo the end of July bound for untested waters of far western Montana, namely the Bitterroot River. Arrived to warming weather and a great golden stone hatch. This river is the first where I have experienced total dry fly action. The water so clear and bottom so clean, I believe only stone flies hatch. We fished with Bitterroot Outfitters the first two days.

Larry claims he was fishing a 10wt...right...
On the Bitterroot and the Blackfoot. Both excellent days of mostly west slope cutthroats with a few RBs' and big browns thrown in for interest. Yellow sallies, caddis type attractors/stimulators, and huge, gaily colored foam ants all worked well.

Bitterroot cutt
The fish were definitely keyed to big stuff on top. Not too particular with color. Presentation was a necessity however, as they see a lot of the real thing. Conservative day estimates were 50-60 /day. Then as a bonus, the night caddis hatch was something to behold. Classic long casts to a scum line on far bank, with twilight slowly approaching. Caddis everywhere. Was memorable. Bigger fish too!

Fishing the moon caddis hatch
After 5 days, Joe was tired of catching so many fish, so I talked him into going over to the Big Horn River. What a difference. Fishing was good , but not as. The real difference is the people. You must float this big river, but like the San Juan, it looked like the Spanish armada had descended. Boatmenship was necessary , not to tame the river, but to survive "bumper boat" collisions. The lower section was not as bad.

Big Horn brown took a hopper
Early morning we tested the trico hatch. First time to catch big fish on #20-22 dry flies. Fun indeed. Later in day nymphing with standard patterns 10-16 size brought a few more fish, all browns. The secret to nymphing is to go deep with heavy iron, bouncing along the bottom, while you drift. A pretty river. Also easy to guide yourself once you understand river. Rowing is fun and relaxing I found. Bob Krumm is available for guiding. Cottonwood Camp is el cheapo, but clean enough. Joe, particularly liked the mice! Otherwise, there are several hi dollar lodges with all the amenities. Travel is to Billings, Mt. then van shuttle to FT. Smith. All the water is on Indian reservation land so access is strictly limited. – Larry
Joe (Montana) Richey adds: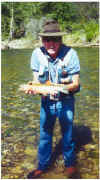 Joe with cutt
Doc and I left Camarillo on Sunday, July 24 heading for Stevensville, a small town south of Missoula about 30 miles. Monday, the 25th we fished the West fork of the Bitterroot south of Conner with a guide from a float boat. We were told that this was a dry fly river and that we would probably see a good Golden Stone hatch a mid-day. We tied on a couple of size 10 stones and proceeded down river casting to beautiful water everywhere. We had luck very quickly, we landed nice 12 to 15 cutthroats every few minutes but the best was yet to be.
Every 10 or 15 minutes we would drop anchor and fish prim spots for larger fish - and we found many of them. Nicer fish ranged from 15-18 inches and were plentiful. The golden stone flies started to hatch at about 11:00 at a spot Doc calls the "honeyhole". There we caught fish until our arms were tired while the guide fixed lunch.
Tuesday we fished the Blackfoot from the same boat and landed many fish but they were generally smaller in size, !2-14 was the rule. Wednesday we fished the East Fork of the Bitterroot, a small stream by comparison and caught smaller but many cut's.
Thursday we returned to the West Fork by ourselves and walked to the so called honey hole. Again we caught many cut's in the 15-18 range, again until we were tired. In the evenings we would fish on my friend ranch at Stevesville and we caught mostly rainbows just before dark. Friday we flew to the Bighorn and rented a float boat which Doc handled as well as any guide. There we caught brown's and rainbows mostly on nymphs casting toward shore. Saturday we started early to catch the trico hatch and the rainbows responded well at least to Doc's flies, (size 18-22). We floated about 13 miles that day and caught some nice browns on dries and nymphs.

Joe with big fish on Big Horn
In retrospect I would highly recommend the Bitterroot to our club members. For the most part you will see few people in comparison to the Bighorn. Also the scenery is about as good as it gets on the Bitterroot and you can't find a better dry fly river any where. – Joe