Jimmy Toy

, Gary Hooper, and I drove to Lee's Ferry, AZ on the Colorado below Glen Canyon dam to take advantage of the guide certificate kindly donated by Terry and Wendy Gunn of Lee's Ferry Anglers to the club auction last spring. We fished on Monday with expert guide Allen Neff, who also guides in Idaho during the summer. Lee's Ferry Anglers' guide boats are equipped with a big windshield and an enclosure as protection against the early morning chill, which made the journey upriver to 8 Mile Bar a fun sight -seeing trip.

Jimmy Toy and Gary Hooper with Lee' Ferry double.
We fished the "Ice Box" so called because the sun doesn't appear on the water until February! We had a great time fishing for quality rainbows with zebra midges and pink scuds. There was some surface feeding and Jimmy caught a bunch of fish on a tiny local midge dry pattern with black thread body, Antron wing, and trailing Z-lon shuck. Our guide took me up to a section of the bar where some large fish were resting in very skinny water. Casting a #14 pink scud to them produced a 21.5" rainbow, my best fish ever at Lee's Ferry.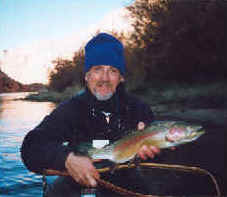 Bill's biggest Lee's Ferry Fish.
Gary Hooper, who was on a busman's holiday from guiding in the Mammoth area, had fun fishing a 0 weight Sage to the fish sporting their fall colors. Gary guides out of Rick's Sports Center (760) 934-3416) and is a guy to see if you want to learn to really fish Hot Creek, the East Walker, and other Sierra streams.
Tuesday we rented a boat from Wendy and fished below 4 Mile Bar, and then Long Bar, landing lots more nice fish., about 25-30 each.
That evening we drove to the San Juan in New Mexico. Early am at Texas Hole Dan Millis knocked on our door, he'd flown into Farmington to join the expedition.. Later that day the two Larries: Martin and Garfinkel landed at the strip near the river and joined us. We made good use of FRS radios to stay in touch. On Thurday Tom Greenup and Jim Stallings from the Sespe club pulled in in Tom's RV to add to the party.
Larry Martin and Dan Millis made a side trip to Durango to fish the Animas.

Gary Hooper with San Juan football.
Flows on the San Juan were around 480-500, lowest I've fished, though the water was clearer than last year. We had a great outing wading above Texas Hole (TXH) with guide Chris Guikema, sight nymphing to big bows. Later we fished below TXH with Chris (sure looks different this year – TXH, not Chris) and hooked some more nice fish, including 2 browns by Gary.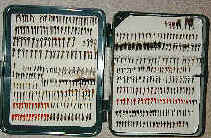 Gary's flybox.. why he's a pro...
I pumped some stomachs over the next 2 days and found some ¾" long orange worms that nicely matched our peach-orange chenille SJ worms, which explained why they worked so well. Some tan worms were also present. In the samples we saw some translucent-greenish size 16-14 scuds which we imitated with light green flashy dub – they also caught fish. Also in the trout puke were small black midge puppa.
The weather had been very warm with not much cloud cover, so not much baetis activity. We fished #26 black thread midge puppa/emergers with silver wire rib, black dub head and very short pearl flash stub wing. They caught some nice fish, as did a #26 gray/olive thread midge larva with some flash in the black head. Biggest fish of the trip was a 23" beauty allegedly caught by Larry Garfinkel (no photo proof). My favorite was the 19.5" fish that ate a #26 Brooks Sprout midge tied with Rainy 1/16 foam post, black thread, silver rib, dark dun hackle and trailing ginger shuck (this one worked as a no-hackle too). The fish took me around the small island where I was fishing until some other anglers helped me land the hot fish (I was using 7X fluorocarbon).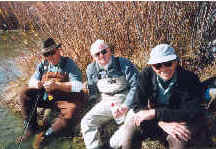 Tom Greenup, Larry Garfinkel, Jimmy Toy
taking a lunch break at the 'Juan.
I chose this trip to work on my dry fly fishing, and fished tiny CDC midge adults with the Sprout Midge as a trailer. Jimmy did well on dries with his CDC Jimmy Special. Enough fish were fooled to make it a blast. Some weren't so impressed, and nudged the flies away with their noses to get at the naturals… Best fishing was in the mornings above TXH. Gary Hooper on his first visit to the SJ landed 35 fish to show expertise counts, not luck. Gary brought samples of the new very small Tiemco hooks (down to #32 dry and #30 scud) and managed to land a fish on a midge adult tied on the #32. The big browns at the "Meat Hole" were bending his size 26 hooks, so the new Tiemco's are probably best for smaller fish.
The San Juan trout seem to be getting pretty leader (and indicator) shy. This might have something to do with clearer water as well as fishing pressure? Some of us fished without indicators when nymphing and did better than with indicators. If used, indicators of about one or two strands of black poly about an inch long worked best. We fished attractor nymph (micro egg, SJ worm, scud) plus midge emerger or larva with a #6-8 split shot or sometimes no weight. The weight of the wet SJ worm was often enough in the skinny water. I am a believer in fluorocarbon tippets, and the price is coming down. Even with fluoro, it seemed like we had to fish a size smaller tippet this year: 5 and 6X when nymphing, and 6 and 7X with the dries.
On the dry/dropper, if you used a small CDC midge for the dry with white desiccant to lighten it up for visibility the fish sometimes ate that too.
The last day there was some cloud cover and we had some success at Baetis Bend with gray WD40, foam RS2, and other baetis type nymphs, but it was mostly a midge and worm trip.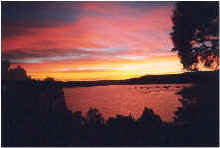 San Juan Sunset
* * *
If you go: At Lee's Ferry check with Wendy and Terry Gunn's Lee's Ferry Anglers website http://www.leesferry.com , Email: anglers@leesferry.com ,Toll free 1-800-962-9755)
For info about the San Juan visit the club's website and click on "Outings" and "San Juan River" for lots of information and links.