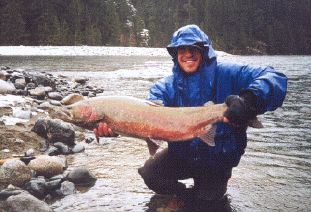 WOW! A 19 pound steelhead caught by Nathan Bordofsky!
Nathan journeyed to the Gold River in British Columbia to catch this beauty on March 29, 1999. He used his 14 ft 9-10 wt. Loomis Spey Rod to swing a Black Bunny Spey he tied himself. The fish took 20 minutes to bring in. Nathan says a flick of his tail and he was away on another run.
The fish was caught after a morning of snow and rain... real winter steelheading weather. The water was a chilly 36.. though it did warm up to 38 later...
"This is the fish of a lifetime" (so far Nathan, you're young-Bill) he says. Nathan fished for six days to catch this fish of 6,000 casts. Guide Mark McAnelly took the picture. Has anyone ever seen Nathan smile before?