[ Home ]
[ Up ]
[ Delta Stripers 12-98 ]
[ Sopris Creek, CO 12-98 ]
[ Lee's Ferry, AZ 12-98 ]
[ San Juan River, NM 12-98 ]
[ Upper Sac and Fall River 11-98 ]
[ Merced River 11-98 ]
[ Bass'n on Westlake 5-98 ]
[ Provo and Green Rivers, UT 5-98 ]
[ Pleasant Valley Reservoir - The Gorge 12-98 ]
[ San Juan River, NM 2-98 ]
San Juan River
February 6 - 10, 1998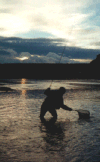 Back again! Jimmy Toy and I took my new 22' Minnie Winnebago on a shake-down cruise back to the San Juan River in New Mexico. The old cliché "if you don't like the weather, wait a half-hour" applied on this trip. We had rain, snow, sleet, and sunshine. And lots of fish. We had intended on fishing Lee's Ferry in Arizona on the way, but severe storms in LA spoiled that plan. We did manage to meet up with Tom Greenup and Wayne Caywood of the Conejo Valley Flyfishers.
The first few days we fished a hole above the Texas Hole that had good midge hatches, and in the slow water below inlets into the main channel. Later we fished the Lower Flats (Lunker Alley). We tried Simon Point one day, but only saw a few small fish.
While the San Juan is known as a nymph (worm?) river, we did a lot of dry-fly fishing in mixed hatches of Baetis and black midges. Jimmy was very successful using #22 Griffith's Gnats (especially with a fat herl wrap and thin hackle), as well as "thorax adult midges" in black (an Ed Engle tie). I was successful with these flies, as well as a Grizzly Adams #16 from Tom. I had noticed an egg laying female midge with an orange egg sac the last trip, and tied up a thorax midge with an orange "hotbutt" to imitate this. It worked, but not well.
The water was clearer than in December, with 2-3" visibility, flows about 800 c.f.s. Water temp was a bit colder, about 43°. Our best fishing was during overcast or snowy weather. Hatches generally started about 10:30 and were over about 3:30.
Nymphs (generally #20-22) that worked were Red Hots (red bead and red Larva Lace on Timco #205), Chocolate Emerger, RS2, Aura Borealis (Mike Mora pattern) with peacock like glass bead, black body, Antron stub wing, and silver wire rib), and a fly like the Aura Borealis but with gold glass bead head. Of course the SJ worms worked, including tan chamois worms.
Biggest fish was Jimmy's 22.5" toad, most fish day was about 30 hooked up, again by Jimmy. Our best dry-fly day was almost this good, with Tom cleaning up with Adams patterns. Tom lost his best Adams when he struck hard, then caught the same fish on another fly and got his Adams and tippet back.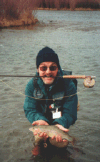 Bill with a 'bow.