[ Home ]
[ Up ]
[ Delta Stripers 12-98 ]
[ Sopris Creek, CO 12-98 ]
[ Lee's Ferry, AZ 12-98 ]
[ San Juan River, NM 12-98 ]
[ Upper Sac and Fall River 11-98 ]
[ Merced River 11-98 ]
[ Bass'n on Westlake 5-98 ]
[ Provo and Green Rivers, UT 5-98 ]
[ Pleasant Valley Reservoir - The Gorge 12-98 ]
[ San Juan River, NM 2-98 ]
Pleasant Valley Reservoir, CA - The Gorge December 1998
Steve Anderson, Larry Garfinkel, Bill Becher
by Bill Becher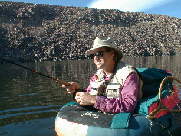 Tubemeister Steve Anderson caught 20 fish at PV
Tubing Pleasant Valley Reservoir
Steve, Larry, and I decided to try out the new float tube access to Pleasant Valley Reservoir north of Bishop. Thanks to efforts by Brock's fly shop in Bishop and the CVFF and other clubs, the DWP has granted access to float tube PV Reservoir. Note that posted rules require Coast Guard approved PFD be worn by tubers at all times.

Click here for all the Pleasant Valley Reservoir float tube rules.
While we camped at the campsite below the PV Dam, we took the Gorge Road from 395 to the first power plant and walked in about a mile carrying our tubes to the first float tube access trail. Word was that fishing was not so good near the dam. We fished the inlet section of the reservoir to the "boat ramp" in water from 5' to 16' deep. Water was cold, about 43 degrees, skies were clear and sunny. There were some bugs on the water and a few fish rose sporadically. In the morning Steve and Larry each landed about 7 fish, mostly rainbows with a few browns. Largest fish was a 16" 'bow landed by Larry. We saw the Alpers truck drive down the road to the "boat ramp" so there should be some big fish in the reservoir now.
I landed one 12" bow then noticed a hissing sound from my float tube. I kicked to shore and located the leak but was unable to effect a field repair. I fished the bank and had a couple of hits, but no fish landed. Also tried the river area below the power plant without success.
Steve landed another dozen fish in the afternoon -- Larry had another half-dozen, mostly bows with two browns.
There were about 8 anglers tubing the reservoir on a Friday.
Best flies were variegated cinnamon wooly buggers, also olive worked in size 10. I had some takes on a glass bead head midge pupa size 16 that is a Brian Chan design that seems to work well in lakes. Also productive were Gray Ghosts. Steve fished with a full-sink III line, Larry used an intermediate sink, I used a sink-tip.
I would rate the fishing a 7, the scenery a 2 as the reservoir has all the ambiance of a large drainage ditch. Think rip-rap.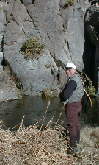 Larry caught the most at the Gorge but it was windy!
A Hard Day at the G
On Sunday we fished the Gorge. This was a very tough day. A midge hatch started about 10am and Larry landed three fish to 12" on a #16 Parachute Adams. But the hatch ended quickly as the winds started up and only a few fish were feeding. Later Steve hooked two fish and landed one on a San Juan Worm. Bill was 0 for the Gorge, making this a one fish trip! The wind was really bad, so we bailed early and headed home. Another day….