[ Home ]
[ Up ]
[ Delta Stripers 12-98 ]
[ Sopris Creek, CO 12-98 ]
[ Lee's Ferry, AZ 12-98 ]
[ San Juan River, NM 12-98 ]
[ Upper Sac and Fall River 11-98 ]
[ Merced River 11-98 ]
[ Bass'n on Westlake 5-98 ]
[ Provo and Green Rivers, UT 5-98 ]
[ Pleasant Valley Reservoir - The Gorge 12-98 ]
[ San Juan River, NM 2-98 ]
Provo and Green Rivers in Utah
Colorado River at Lee's Ferry, Arizona
April 26- May 2, 1998
By Bill Becher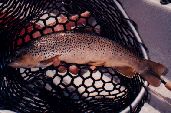 Another great fly-fishing trip to tail-waters!

Sunday - Provo River
Jimmy Toy and I drove Saturday to the Provo River, mostly to break up the long drive to the Green River. We stayed at a private RV campground a mile or so below the dam. We fished the Provo Sunday. The fishing was slow in the morning, with only one hook-up each before noon. In the afternoon the bite picked up. Bill hooked 6 and landed 2 fish, one an 18" brown on a cased caddis imitation.
Jimmy was 5 for 9 on small Hare's Ear and PT nymphs. Jimmy also landed a nice 18" brown.
The campground was a bargain at $18 for electric and water hook-up, and a lot of private water to fish. The flows were fast and as many as 3 BB size shot and a #1 between point and dropper flies were needed to get to the fish. We quit early to drive to the Green. Our route took us into Wyoming, where we saw deer and antelope playing, didn't hear any discouraging words, and the skies were not cloudy all day.
Monday - Green River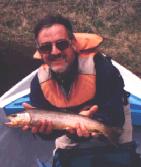 Bill managed to catch a few on Denny's boat

We fished with guide Denny Breer from his driftboat. The Green trout fishery is below the Flaming Gorge Reservoir. The first 7 miles, known as the "A" section, include some Class III rapids, so we had some whitewater along with excellent fishing for browns, rainbows, and Colorado Cutthroat (Jimmy caught one).
There wasn't much dry fly fishing, mostly we fished suspended tungsten bead head midge patterns (size 16!) using a large cicada dry as an indicator. Also we fished a pink shrimpy thing that looked like a pink jig. Bill managed a fish on a #20 poly wing Adams. The promised baetis hatch didn't really materialize, the weather was to sunny.
Largest fish was a 20" brown. We caught mostly browns, with a few rainbows up near the dam. Jimmy had about a dozen fish landed, Bill had about 20 including 5 on drys.
For more info about fishing the Green, check out Denny's excellent fishing report at
http://www.xmission.com/~ducarl/fishwest/CurrentConditions/greenriver.htm
Denny's webpage is at http://www.flyshop.com/scripts/Fishgreenriver/guides.cfm
Tuesday - Green River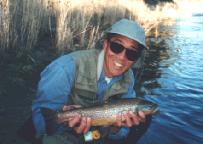 Jimmy with a nice fish
We were on our own this day, and wade fished the "A" or upper section, starting at Little Hole and working our way upriver about 3 miles.
This was Jimmy's day, he hooked over 40 fished and landed 25. Virtually all of the fish were on dries, mostly the "Jimmy's Special" which is a CDC wing, thread body midge in a #22. Best color was a tan wing. though white also worked. Jimmy would have had more fish, but he decide not to be greedy and stopped fishing after landing 25 fish.
Bill did some nymphing and landed some nice browns on a #22 Aura Borealis glass head midge imitation (this is a San Juan tie with a crystal flash stubby wing, thread body, wire rib and peacock blue-green bead developed by Mike Mora). Bill managed to land 10 fish on Griffith's Gnats, Jimmy Special, and the Aura Borealis. A number 16 G Gnat seemed to imitate a midge cluster.
There were clouds of midges hatching, the water was covered with shucks and adults. The fabled "gin clear" water had a bit too much green Vermouth in it due to run-off from tributary streams, but even so we could watch trout inspect our offerings, ignoring them, rising for a look and a refusal, or snapping them up with a head out of the water rise.
Wednesday - Green River
Deciding to try some new water, we hiked over a ridge past an abandoned bootleggers cabin (and still), and fished the lower "B" section. As advertised, fish here were fewer in number, but larger than higher up on the river. Bill was getting skunked in the morning, then finally hooked a big rainbow that wasn't interested in coming to net. After a ten minute battle to keep him out of the faster water, I managed to land a nice 19" rainbow on a #22 CDC midge dry.
Jimmy was doing better with his fishing, landing a number of nice fish in the 16-18" range. In the afternoon a red tunghead midge larva took a large brown for Bill. We packed up our gear and broke down our rods and were ready to hike back at about 6:30 when some fish started rising in front of Jimmy. Not one to let a fish think he was safe just because he had put his rod away, Jimmy re-rigged and landed a big brown. We hiked back and finished out the evening catching browns at Little Hole until dark.
Thursday - Travel
We drove to Lee's Ferry, with a scenic stop at Page.
Friday - Colorado River at Lee's Ferry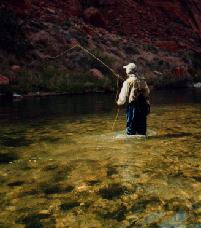 Jimmy stalking some 'bows at Lee's Ferry
We fished with guide Bill McBurney of Ambassador Guide Services. Bill B learned streamer fishing techniques, and caught some nice 'bows on black and green Wooly Buggers. Jimmy was busy catching a dozen 'bows from 12-17". Lee's Ferry is the tailwater below the Glen Canyon Dam. Most of the 12 miles of fishing requires a boat to access. The canyon is beautiful, with many red rock formations.
Saturday - Colorado River at Lee's Ferry.
We rented a jet boat from Lee's Ferry Anglers. They too have a website at:
http://www.leesferry.com/ with excellent fishing reports.
Well, I guess I better 'fess up. We got about seven miles upriver in the boat when Jimmy asked me, "Where's your rod, Bill?" Of course it was back in it's rack in the Winnebago. Jimmy motored back down river, muttering "You owe me big time…." Back upriver about four miles we stopped and fished a drop-off in front of a gravel bar. Bill managed a number of nice fish on streamer, fishing tight line with about a four inch strip. Strip, strip, strip, pause, seemed to do the trick, with many fish biting on the pause.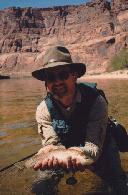 One of Bill's 'bows
Jimmy noticed that the guide and his client had moved out of Four Mile Bar across the river, so we tried this large sandbar. This was the hot spot for Jimmy, he hooked 70-80 fish, landing 25 for a 30+ fish day. The fish were all feisty rainbows, who obliged us with runs and explosive jumps like finny Poseidon missiles. The river was about 48 degrees, warmer than what we had been fishing this winter. The fish responded well to midge emerger patterns, including Chocolate Emergers and silver tunghead midges. The Ed Engels Zebra Midge did well too. Bill caught a bunch of fish on # 8 black or green Wooly Buggers tied with green Flashabou on the sides. The # 22 Aura Borealis fished below a beadhead pink scud produced well for me, with most fish taking the emerger, but some eating the scud. The theory is that the scud acts as an attractor to get the fish's attention, then they eat the midge. A similar technique using a San Juan Worm works at the SJ.
The best fishing was along the bar in about 2-4' of water, and in the tail-out below the faster water that cut across the bar forming a small channel. We didn't see any insects on the surface, and few rises, so we didn't try any dries. Biggest fish are supposed to be available during the November spawn.
Bring a rod, it's easier to fish that way!