The Green River is another classic Western tail water fishery featuring big, hard fighting browns, cutthroats and rainbows, along with some fantastic scenery. Advances in fisheries management (particularly the building of "selective withdrawal structures" which allow releasing water from different heights at different temperatures) have resulted in a world-class trout environment at the Green. Estimated trout population is 60% rainbows, 25% browns, and 15% cuts. Fish counts range from 3,000 to 9,000 per mile. Bow's seem to be more prevalent in the upper sections of the A, browns lower down. The current record bow hooked on the Green is a 21+ pound fish. Scenery is beautiful, with ponderosa pine dotting the hills and many grassy banks.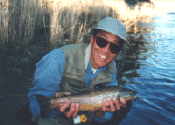 Jimmy Toy took this fish on the B Section of the Green
The water is generally gin clear despite the "Green" name and gives you the opportunity to watch fish inspect your flies and presentation, and hopefully eat them...Kind of like fishing in an aquarium. The river offers 26 miles of fishing below the Flaming Gorge Dam in northeastern Utah. Flowing through a red rock canyon, the river is divided into 3 sections: A, B, and C for access purposes. The first, A section holds the most trout and is most heavily fished both by wading and drift boat. The middle, B section holds fewer fish, but is less pressured, as is the C section. The river is popular with rafters an can be heavily pressured during the summer. For an excellent guide to fishing the Green, read Denny Breer's new book UTAH'S GREEN RIVER-A Fly Fishers Guide to the Flaming Gorge Tailwater Published by Frank Amato Publications. If you order directly from Denny you can get an autographed copy. Info at his website under Products. Another source, though less up-to-date, is the River Journal - Green River by Larry Tullis, also from Frank Amato and available from Denny.
An excellent map of the Green should be available locally or call American Adventures Association in Salt Lake City at 801 484 5924 or visit their website for information on ordering (they have maps of other flyfishing rivers in Montana, Utah, Wyoming, Idaho, and Colorado including Yellowstone, the Snake, and Henry's Fork). A bargain at $4.95 each.
One of the best on-line sources for info about the Green is Quickbyte's Green River Page which has links for current conditions, lodging, guides, and even a chat room. Also be sure to check Denny Breer's Trout Creek Flies page and his excellent Green River fishing report. He updates it weekly and it's a great source of detailed information on fishing the Green.

Getting there
There is probably Dutch John, the closest town which is accessible from Rock Springs, Wyoming to the north and Salt Lake City, Utah to the west via I-80. You might even see deer and antelope playing! Or take Hwy. 40 east out of Salt Lake to Flaming Gorge via Vernal, Utah, but you'll encounter some steep climbs and many switchbacks on this route - however it is scenic and doable even in an RV. Total distance from Thouand Oaks via I-80 is about 940 miles or 16+ hours. A good break is to stop in Provo, UT and fish the eponymous river. Click here for MapQuest Driving instructions.

NEW Click here for a discussion of alternate routes.

The shortest route from Denver is to take I-70 west to Rifle, Colorado, then go north on Colo. 13 to Meeker, Colorado. At Meeker you'll take Colo. 64 to Dinosaur, and then east on Hwy. 40 to Vernal, Utah. Out of Vernal you'll take Hwy. 191 north to Dutch John.

From Denver is to take I-25 north to Cheyenne, Wyoming, then I-80 west to Rock Springs (or take the Colo. 287 shortcut at Fort Collins north to Laramie). At Rock Springs take Hwy. 191 south to Dutch John, Utah. There are no mountains to traverse on this route. Its a little longer, but actually a little faster.

Private pilots can fly to the paved runway at Dutch John, Utah. The Dutch John Airport is at an elevation of 6561 feet, and has 6800 feet of paved runway, paved tie down areas, and a Unicom radio system. For shuttle service, check with Green River Outfitters at Dutch John Airport - Phone 435-885-3338

Places to stay and eat
Note Green River got a new area code: 435 to replace the old 801 after March 1998 so some guidebook numbers may be out of date.
There are many campgrounds in the Flaming Gorge Recreational area for RV's and tent/car campers. The closest to Little Hole is Dripping Springs which is also the only campground open year-round. Reservations are advised during "peak seasons". The peak season for most campgrounds is Memorial Day through Labor Day. Most Ranger Districts keep some sites open after Labor Day, weather permitting. For Recreation Reservations Call: 1-877-444-6777 or visit the NRSS (Parknet) website which is under construction. Note that you may be told that campgrounds are closed at times in spring or fall, but this may simply mean that the campgrounds are open on a first-come-first-camp basis. Call the local ranger at 435 784 3445 for more information.
Here is a list of area car or RV campgrounds. Note that snow or road conditions may affect accessibility.
The Quickbyte site has a map of campground locations.
NAME
Elev.
Approximate
open dates
Sites
(s=single
d= double
g=group)

Comments
Antelope Flat
6040'
5/17-9/12
46s
Parking lot open for camping until first frost
Canyon Rim
7040'
5/17-9/12
18s
Also open hunting season pack in/out
Cedar Springs
6100'
4/1-10/15
16s,5d
Deer Run
6200'
5/17-10/15
15s,4d
Also open hunting season pack in/out
Greens Lake
7400'
5/17-11/1
19s
Mustang Ridge
6200'
5/17-9/12
54s,19d
Dripping Springs
6000'
Yearlong
19s, 2d
Firefighters Mem.
6900'
5/17-9/12
94s
Greendale
7000'
5/1-10/1
8s
Also open hunting season pack in/out
Arch Dam
6200'
5/1-10/1
4g
Overflow camping on busy weekends
Dripping Springs
6000'
Yearlong
4g
Dutch John Draw
6100'
5/1-11/1
1g
No water
Greendale East
7000'
5/1-10/1
4g
Also open hunting season pack in/out

The two major lodges in the area are:

(check our their new website)

Greendale, U.S. Highway 191
Dutch John, Utah 84023
Phone 1-435-889-3773
FAX 1-435-889-3778
email lodge@fglodge.com and Red Canyon Lodge (this one has a trout pond on the premises)

Highway 44
790 Red Canyon Road
Flaming Gorge NRA
Phone 1-435-889-3759
email info@redcanyonlodge.com

Suggested tackle
A 9 foot 5 to 6 weight rod is a good all around choice for nymphing and dry fly fishing the Green. You might be able to use your 4 weight on baetis or midge hatches. Most of your fishing will be with a floating line, you can use a sink tip or sinking line for streamers. Denny Breer in his book on fishing the Green suggests trying a shock device ahead of the leader to cut down on break-offs. Generally you will want to use 5x tippet, 6x for fishing dries to picky fish, and 4x if they're smashing your nymphs.
Popular techniques include fishing a dry (often a cicada imitation) with an appropriate dropper such as a bead head midge pupa, as well as indicator nymphing.

Clothing and gear
| | | | | |
| --- | --- | --- | --- | --- |
| Month | Mar-May | Jun-Aug | Sept-Oct | Nov-Feb |
| Daytime temps | 30 to 63 | 60 to 90 | 50 to 75 | 14 to 45 |
| Nighttime temps | 20 to 40 | 50 to 65 | 40 to 65 | -20 to 20 |
Neoprenes for the winter and Gore-Tex for summer are the obvious wader choices. Don't forget a wading staff and wader belt. Water temps June to October are 54-56 and many wet wade. Clothing choices obviously depend on time-of-year. You will be in the mountains at 5600 ft so be prepared for changeable weather... layer up!
There are Class III rapids on the Green so leave canoes and float tubes home. It is possible to rent rafts, but the smart choice is to go with a guide who knows the river if you don't want to wade.

Where to fish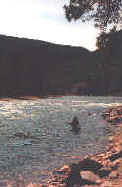 Fishing the "B" section
90 percent of the 80,000 annual anglers fish the "A" section of the river, but this should not keep you away from this classic water. Access without a boat is by a trail from the Dam to Little Hole. Walking past the first mile or so usually means fewer fisherman. You should also check out the B section via the trail from Little Hole. It's about a 45 minute hike with some uphill, but you get to see a bootlegger's cabin!
Look for the seams between slack water and the faster currents. Be sure to look for back eddies where fish congregate. The fish will be facing the opposite direction than the main current, so adjust your presentation accordingly.

Licenses
Note that the Flaming Gorge National Recreation Area has a use fee of $2.00 per day; $5.00 for 16 days or $20.00 for an annual pass.
A Utah fishing license is required.
FISHING LICENSES (1998 version, check for current prices and regs)

Nonresident
Fees

Comments

Season Fishing Lic.


$42.00

The season fishing license is valid from January 1 to December 31. May be purchased by a person 13 or under wanting to take a full bag and possession limit.
*1-day (14 and over)

$7.00

May be purchased by a person 13 or under wanting to take a full bag and possession limit. *WHA is not needed with the 1-day fishing license.
7-day (14 and over)

$17.00

May be purchased by a person 13 or under wanting to take a full bag and possession limit.
1 day fishing stamp

$5.00

Used to extend 1 and 7 day fishing licenses.

Regulations
Fishing the Green is with artificials only, and a slot limit applies.

GREEN RIVER

(Carbon, Daggett, Grand and Uintah counties)
(b) From Colorado state line in Brown's Park upstream to Flaming Gorge Dam; including Gorge Creek, a tributary entering the Green River at Little Hole: - ARTIFICIAL FLIES AND LURES ONLY.
- CLOSED to fishing from a boat with a motor between the Utah-Colorado state line and Flaming Gorge Dam.
- Licensed anglers, trout limit is 3 (2 under 13 inches and 1 over 20 inches).
- Unlicensed anglers 13 years of age or younger, trout limit is 2 (2 under 13 inches or 1 under 13 inches and 1 over 20 inches).

For more details, visit the the Utah Department of Wildlife Resources Fisheries Information Page. Of course, you're going to catch and release with barbless artificials only, so no worries, right?

Suggested flies
Green River Hatch Chart
FLIES
JAN
FEB
MAR
APR
MAY
JUN
JUL
AUG
SEPT
OCT
NOV
DEC
Midges
***
***
***
***
***
***
***
***
***
***
***
***
Baetis
*
***
***
*
*
***
*
Tricos
**
***
*
PMD
*
***
**
*
Caddis
*
***
***
***
Cicadas
**
***
*
Craneflies
***
***
***
***
G Stones
***
***
Beetles,
ants, hoppers
*
**
**
***
***
***
**
*
Mormon crickets
*
***
*
Scuds
***
***
***
***
***
***
***
***
***
***
***
***
Aquatic worms
*
*
*
*
**
***
**
*
*
*
*
*
Eggs
*
***
***
***
*
***
***
Minnows, leeches
*
***
***
***
***
***
***
***
***
***
***
Due to their prevalence year-round, it's a good idea to go the the Green prepared with good imitations of midges in all stages from larva to adults. The cicada hatch is a famous Green event and can bring smashing takes of strange looking foam dries such as the Chernobyl Ant or various Cicada ties.
You can order a selection of Green River flies online from Brookside Flies or call up Flaming Gorge Lodge at Phone 1-435-889-3773 and ask for Guy Collette, one of the owners. Tell him when you will be fishing the Green and he can take a phone order and ship appropriate flies.
Check with the locals before you go to find out what's hatching and what's working. A Green River fly box (all seasons) could include:
Nymphs:
Scuds - olive, orange, gray, tan and pink, silver beadhead and regular: #10-16
Brassies - red, copper, and green #18-22
Silver bead head midge pupa in black, brown, gray, and red #16-22
Crane-fly Larva - gray, olive or tan: #8-14
Pheasant tail nymph: #18-20 in flashback, bead head and regular
WD 40 - olive, red, gray and black #18-22
Flashback GR Hare's Ear - natural and olive #14-20
Buckskin caddis larva - green and tan, silver beadhead and regular #12- 18

Drys:
Griffith's Gnat - Parachute and regular #14-20 (try a big one as a mating cluster indicator)
Jimmy Toy Special - black, gray or brown thread body and tan or dun CDC wing #18 -22
Parachute BWO or Adams olive and gray #18-22
PMD parachute or compara-dun #14-18
Elk Hair Caddis olive and tan, #12-18

Attractors and Terrestrials:
Mormon Cricket #8-10
Chernobyl Ant #6-10
Cicada Trudes #8-10
Joe's Hopper yellow or olive #8-10
Sailor Ant #14-18
Foam beetle
Flying black ant
Stimulators - Orange, Yellow, Red #6-10
Humpies, yellow, red, royal: #8-18


Guides and local fly shops
Guides generally specialize in single and multi day float trips on various sections of the river. There is a well equipped fly shop at the Flaming Gorge Lodge.

Trout Creek Flies

Denny Breer is a CVFF supporter and has literally "written the book" on fishing the Green.

P.O. Box 427
Dutch John, Utah 84023
Phone 1-435-885-3355
1-800-835-4551
Dennis & Grace Breer
info@fishgreenriver.com

Flaming Gorge Lodge

Good tackle shop here.

Greendale, U.S. Highway 191
Dutch John, Utah 84023
Phone 1-435-889-3773
FAX 1-435-889-3778


Flaming Gorge Recreation Services

P.O. Box 367
Dutch John, Utah 84023
Phone 1-435-885-3191
Fax 1-435-885-3350


Green River Outfitters

Dutch John Airport
Dutch John, Utah 84023
Phone 1-435-885-3338
greenriver@sisna.com

Old Moe Guide Service

P.O. Box 308
Dutch John, Utah 84023
Phone 1-435-885-3342
gwerning@union-tel.com

Links
Go Utah Travel Guide
The Gorge (Flaming)
Green River Chamber of Commerce
Ashley National Forest
Fly Fishing Utah
Fish Utah
Department of Wildlife Resources Green River Information Page
Utah Department of Wildlife Resources Homepage