The San Juan below the Navajo Dam is a trophy rainbow river with excellent access and year-round fishing. This planning guide concentrates on winter fishing, though the season is year-round. The San Juan is known for nymphing, but baetis and midge hatches in the winter can supply some great dry fly action.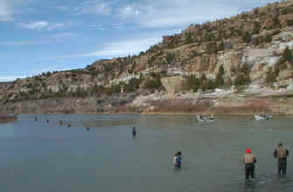 Texas Hole can get crowded on a weekend, but there's lots of other water on the San Juan.
Getting there
By car: The San Juan is approximately 850 miles from Thousand Oaks, about a 14-15 hour drive. Usual route is the 101 to the I-10 to I-15 to I-40 to north on US666 (Jimmy calls it the Devil's Highway) at Gallup, NM, then east on US 64 from Shiprock to Farmington. From Farmington continue east on 64 through Bloomfield to 511 north and continue 13 miles to the river (continue over the dam for Pine River Campground). Be ready for winter driving conditions going through Flagstaff. The AAA "Indian Country" map is a good one of the 4 Corners Area.
BETTER ROUTES: Nevada fisherman Bruce Pencek says "Do your folks really go to the Juan via Gallup and Rt 666? It's literally a killer road -- going from Flagstaff to Page, Kayenta, and Shiprock is a little faster, too. In winter, it's better, if counterintuitive, to take I-15 through Vegas to Hurricane, UT, cut across country to Kanab and Page and so on -- those two-lanes in Utah for some reason are better in snow than I-40 around Flagstaff."
Flying: You can fly to Albuquerque, rent a car and drive about 3.5 hours, or catch a puddle jumper to Farmington, NM about 45 minutes from the SJ. For you private pilots, there is a strip at the river. Check with Abe's about pick-up.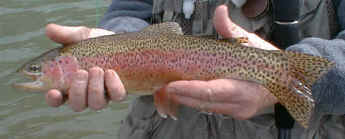 The San Juan is known for great 'bows like this one.
Places to stay and eat
Camping at Pine River Campground at Navajo Lake is excellent, with electric hookups available, along with clean new showers, water and a dump station. There is also another campground at Cottonwood, but access can be difficult if roads are muddy. Your camp permit ($10, with electric hookup $14) is also a parking permit on the river (otherwise you need to pay a daily fee or get a year parking pass at the ranger station for $10). No reservations. Check map. There are also RV hookups at Abe's and Sportsman's Lodge, which also have restaurants. Local accommodations are pretty basic. If you want an more up-scale experience, try staying in Durango, CO, about an hour's drive away.
| | |
| --- | --- |
| | New Mexico State Parks |
| | Abes's Motel and Fly Shop |
| | Rizuto's |
| | NEW: Rainbow Lodge |
Suggested tackle:
Bring a 9 foot 5 weight rod with a floating line. Use 7.5 ft (longer for deeper holes) leaders for nymphing, 9 ft for drys. Most people use a poly yarn indicator and fish with 2 nymphs, a larger "attractor" such as a San Juan Worm, Annelid, or egg on top, with a midge or baetis emerger on a 12" dropper. Or you could try a triple rig with attractor and two point flies. Have a good selection of split shot for slower and faster water. Stripping bunny leaches or buggers on a sink tip early or late can be productive, too.
Where to fish
Check out the map. (Mike Mora) also has a map) Access is at 5 parking lots along the river. From the Dam, the first small lot has access to the Catch and Release area after a short walk, the second (there's a church at the turn-off) to the Texas Hole right from the parking lot, the third provides access via a bit of a hike to the Lower Flats, Baetis Bend area, the 4th lot provides access to Simon Point, and the 5th is where drift boats take out.
Most people start at Texas hole, then work up to the Upper Flats or Main Channel. Look for the transition zones along faster moving water. Another good choice is the Lower Flats, Baetis bend area. Simon Point is usually less crowded than the other areas.
Licenses
New Mexico Fishing License Fees
April 1, 1998 Through March 31, 1999*
LICENSE

RESIDENT

NONRESIDENT

Annual fishing

$17.50

$39.00

One-day fishing (midnight to midnight)

$8.00

$8.00

Five-day fishing

$16.00

$16.00

Junior annual fishing

Anglers 12, 13, 14

$5.00

$18.50

Senior annual fishing

Residents 65-69 yrs.

$5.00

Not issued

Impaired (handicapped) annual fishing

$5.00

Not issued

Annual general hunting and fishing

$37.50

Not issued

Junior, Senior or Impaired (handicapped) annual general hunting and fishing

$20.00

Not issued

Duplicate

$6.00

$6.00

Wildlife habitat improvement validation

$5.00

$5.00

Lifetime fishing (residents 70 or older)**

Free

Not Issued
Regulations:
Special gear required on the Quality Waters of the San Juan:
You must fish with artificial flies and lures that have a barbless, single hook. Descriptions follow:
Single Hook:
A hook with only one point (no double or treble hooks may be used).
Barbless Hook:
A hook with barbs removed, bent completely closed, or manufactured without barbs.
Artificial Lure:
A lure made of metal, wood or hard plastic. Soft plastic or rubber imitations of worms, insects, or other baits, and prepared baits such as salmon eggs, cheese, marshmallows, etc., may not be used.
Artificial Flies:
A fly made from fur, feathers, other animal or manmade materials tied onto a hook to resemble or simulate insects, bait fish, or other foods. Living or dead insects, or rubber or plastic moldings of insects are not legal.
Attracting or Concentrating Fish: (The "San Juan Shuffle")
It is illegal in all Special Trout Waters to disturb or dislodge aquatic plants, sediment or rocks for the purpose of attracting or concentrating fish. It is also illegal to fish in the immediate vicinity (downstream of your feet) of where such a disturbance has occurred.
Clothing and gear:
The water is COLD, about 45°. A thick pair of neoprenes (5mm) worn with fleece pants will help keep you warm. Some do okay with Gore-Tex and lots of fleece under layers. Be prepared to fish in the snow (best baetis hatches occur then, though it can be sunny and pleasant too. A warm cap, storm/rain jacket with hood will help, but bring lighter clothing too. Bring gloves and get some hand warmers from a ski shop. A collapsible wading staff is always a good idea.
Suggested basic flies:
San Juan Worm, Annelid (realistic worm), eggs, chamois worm. (#14 and 16)
Glass bead head midge emerger, foam RS2, WD40, Chocolate Emerger, brassie, red wire brassie. (#18-22), thread midge.
Parachute Adams, Griffith's Gnat, Baetis (BWO) with standard tail and trailing shuck style. (#18-20) You might want a larger Adams as an indicator fly in front of the smaller flies if you have trouble seeing them. Or you could tie up a "Dead Chicken" which is a Griffith's Gnat in a size 8-12 as the lead fly. Sometimes take it for a midge mating cluster.
Check Mike Mora's excellent page for designs or to purchase flies, or the Virtual Flyshop for more ideas. Also check CVFF trip reports for the San Juan. Also you can get flies designed for the San Juan from Michael Parker at bugsrus-nm.com
Guides and Local Fly Shops
Although much of the SJ is accessible to self guided fishermen, you may want to go in a float with a guide if this is your first visit, to get some help with fishing technique and see the whole "quality water" stretch of the river. There are a lot of guides available for the SJ. Costs usually run $225-$250 per day per boat for 2 anglers. Wade guiding is available too.
| | |
| --- | --- |
| | "Born n Raised on the San Juan (Abes) Shop (the first?) and guides. Ask for John Gomez, Sr Guide. |
| | Rizuto's Shop and guides. |
| | Duranglers Shop and guides. Closest to the river. |
| | Resolution Guide Service Chris Guikema operates an excellent guide service out of Durango. |
| | Durango Fly Goods Guides and shop in Durango, CO. |
| | Andy Kim Guide. He guarantees a 24 fish day or your money back. Uses Yong Special flies. Note he offers wade fishing only. |
| | |
| --- | --- |
| | Float' N Fish. Shop and Guides. Newest shop in town with lots of good gear. Check our their wall of Hoffman necks. Guides specialize in night floats in summer for big browns. 505 632 5385 between Rizuto's and Sportsman's Lodge. Nice shop... |
Links
Mike Mora's San Juan Webpage is the best single source of up to the minute info about fishing the SJ. Mike has an excellent library of patterns, a map of the river, fishing reports. You can also order from him an assortment of well tied flies developed for the San Juan. Click on his FAQ link to get more detailed info about the San Juan.
Also try the guide links above and:
Rocky Mtn Fly Fisher
Book on SJ River
New Mexico F&G
bugsrus-nm.com