NOVEMBER 12 Eric and Theresa Van Nooten (SCOTT RODS)
FLY ROD CONSTRUCTION

Eric Van Nooten and his wife Theresa, both of the Scott Rod Company, will be our November 2003 speakers.
Here is what they have to say about their presentation and their fly fishing:
So where to start? The two of us are very serious about rod building. Both of us have devoted a reasonably lengthy portion of our lives to learning the craft, myself going on ten years, Theresa six. Both of us started with Scott as entry level, production employees and crept up through the company's ranks as we learned and mastered the many difficult tasks involved. At this point, Theresa is versed in almost every aspect of the process; from the initial material handling and cutting of patterns, through ferruling (where connections between sections of rods are fashioned), to finishing the rod into a fishing tool meant for everyone's enjoyment.
She is a master roller, the task of laying up raw carbon fiber onto the forms we use. Theresa inscribes perfect Scott hand signatures on rods (she'll demonstrate when we come) and is one of two people at Scott who can do this artistic task. Her guide wrapping abilities are second to none. In addition my wife is very well suited to teaching others the craft of rod construction. In short, she is the type of person who makes my job as production manager much easier.
I became production manager about two years ago, before that I was factory foreman. Serving as foreman (between 1996 and 2001) I watched the daily construction of the product. Quality and performance have been very important to Scott since its birth almost thirty years ago, and I've tried very hard to carry that on. I had to start somewhere.
My first day at Scott Flyrod was spent in the coating room applying epoxy to guides. It would be fair to say it took six months for me to become a coater, some jobs are mastered easily and others take more time. Since my beginning with Scott in Telluride I've done almost all the jobs present in our factory and become a master at several. The nice thing about it, like fly fishing and fly tying, one is always learning, growing one's skills as time and experience passes by. We both love working on fly rods.
I think this will show in our presentation, "Fly Rod Construction". It will be our intention to share with your members as much meaningful information about the construction of rods as is possible in about an hour. People will be able to shake/cast a variety of models, actions, fresh water, salt water, high end product and low end product.
We love fishing. Theresa and I were wed next to our favorite pool on the Gunnison River in May of 2002. Almost all our free time is spent chasing fish with fly rods, now we have a third fishing partner, Brandon Fisher, our eight-month-old son.
I generally grow tired of hearing too much about people's fishing lives, so I'll be try and be brief with the consideration that you might be the same. The Gunny is truly our favorite spot and we go deep into the river's dark places where few can go. Rainbow and browns abound, each species commonly reaching 20 inches or better. But the fish are of a secondary concern to the both of us. The remote location provides solitary enjoyment of the river, rocks, animal and plant life.
We carry heavy packs so we can remain for extended stays; up and down sheer cliffs, across slides of scree, over slippery, river washed moss rocks. The Black Canyon of the Gunnison River National Park is THE place.
Problem is there are too many places near us that hold the same allure, allow for solitude and great fishing. How can a couple of hard working parents get to them all!? We give it our best shot. This past spring and summer found us on the Green throwing cicadas, on the 'Jaun placing tiny dries in front of sipping 'bows, casting hopper and dropper on the San Miguel, fishing beetles on the Dolores, and stripping streamers on the Colorado.
We can't get enough of throwing flies to tiny fish on brushy little creeks with one-weights and glass rods. Mountain lakes are abundant in western Colorado and we do visit them. Carp don't scare us. We've been known to throw flies in irrigation ditches and a few canals. Technical presentations, long casts, light tippets, of course. Strike indicators, 3x, split shot, why sure.
The Uncompagre River flows next to the rod factory, it has plenty of trout and great hatches. This summer we traveled to Lake Nipigon in Canada and cast to big pike and Coaster brook trout of multiple pounds. We like fishing with streamers and dries, nymphs and frogs. I tie almost all the flies we use. Generally we prefer to sleep in a tent and cook our own food. We've never hired a guide. We can usually put the fly where it needs to be and we're usually fishing in some of the most beautiful and compelling fishing locations on earth. We do feel uniquely blessed that we are able to share work and play together, involved in fly-fishing.

OCTOBER 8, 2003
JACK GARTSIDE - SALTWATER PATTERNS AND HOW TO FISH THEM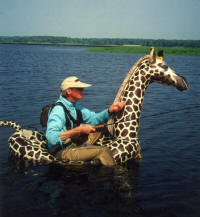 Jack Gartside took his first fly tying lesson in 1956 from Ted Williams, the great Boston Red Sox outfielder, and has been tying and fishing ever since-- in both fresh water and salt-- accumulating an extraordinary range of fishing experience both in this country and throughout the world.
He was one of the first flytyers profiled in Sports Illustrated (Oct. 12, 1982).
Since that time, he has been profiled in Fly Rod & Reel, Fly Fisherman Magazine, Fly Fishing in Salt Waters, Villmarks Liv (Norwegian), La Peche en Mer (French), Tight Loop (Japanese), as well as in many other magazines and newspapers both in the US and abroad.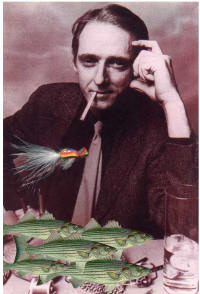 Jack has appeared as well on the cover of Fly Fishing in Salt Waters (the famous photo of Jack and his inflatable giraffe) and also Tight Loop (a Japanese Fly Fishing Magazine, December, 1998). Jack has also written articles for all of the above magazines as well as for many others.

September 10, 2003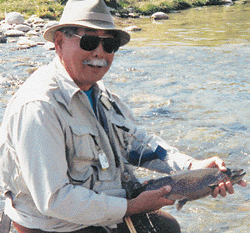 Mas Okui
Fishing Hot Creek
Some who fish it call Hot Creek one of the most magnificent streams in the West. Others are not so complementary. It is frequently referred to as "complex," "difficult," "technical" or just plain "tough." What's your impression? How have you done on Da Creek?" Are you able to consistently catch fish there?

Regardless of your past Hot Creek record, you will not want to miss our September speaker, Mas Okui. From time to time he is referred to as the "Father of Hot Creek." Ever since Mas started fishing Hot Creek nearly 50 years ago, he has taken it upon himself to master this water. His theories, strategies and exclusive patterns will be presented in a most educational and entertaining evening! You don't want to miss this!



August 13, 2003 Will Trefry from CalTrout.
IF YOU WANT YOUR VOICE HEARD BY CALTROUT, COME TO THIS MEETING! THIS IS IMPORTANT FOR THE FUTURE OF TROUT FISHING IN CALIFORNIA!!
Our August speaker is Will Trefrey, Director and So Cal Representative, Cal Trout. I can't stress the importance of this meeting, too much. CVFF donates money every year to CT and meetings of this type will determine where our money goes and how it is spent. If you have concerns about local fisheries including the Sierras, or questions relative to CT's position on a specific fishery, be sure to come. Mark your calendars, the date is August 13. See you then.

Larry Garfinkel

JULY 9, 2003 MEMBERS PRESENTATION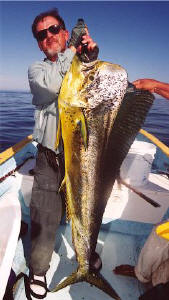 Bill Becher talks about fly fishing in Baja for tuna, dorado, skipjack, rainbow runners, jack crevalle, pargo, roosterfish, and even a sailfish jack, and more. See http://becher.com/baja.htm

JAY MURAKOSHI, PERCH IN THE SURF

I have been in the fly fishing business for the past 31 years. My background includes 30 years of commercial fly tying, having tied for such notables such as Lefty Kreh, Ed Rice and Trey Combs. I have tied for most of the Northern California shops at one time or another. My patterns have been featured in California Fly Fisher, Western Outdoors and South West Fly Fishing.

As a speaker I have been doing seminars and clinics since the early 80's. I have spoken to thousands of people at events like the International Sportsman Expo in Sacramento, San Mateo, Los Angeles, sports pro shops and conclaves. With my partner Ken Hanley, I conduct on- the-water seminars related to salt water fly fishing both local and in Baja. I am also on pro staff for G.Loomis, Bauer Fly Reels, Air Flow Lines and Angler's Sports Group (Dai Ichi Hooks).

With the popularity in fly fishing the surf, this program is designed to give the angler some knowledge of how to approach this new adventure. With over 500 miles of California coastline, you can have plenty of room to roam. Why fight the crowds on your favorite river.

In this slide presentation, I will give you information on what equipment you will need, what flies are the most preferred and how to read the water and tide books. You will also see some of my "HOT" flies that have produced a large number of fish for me over the years. I have put in over 30 years of fishing the surf and have put a lot of the knowledge into this slide presentation. There is nothing more exciting than hooking something that goes screaming across the bay. Other species such as stripers, halibut, salmon, jack smelt and White Sea bass can be caught from the beaches.
Jay's website is at http://www.fliesunlimited.com/
Tying demo at 6:30 pm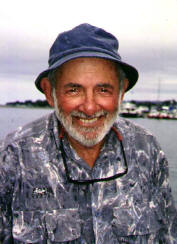 Come See Mel Krieger
One of the most famous fly fishing instructors in the world, the man who has probably taught more people to cast than any other luminary in the fly fishing community, will be our guest speaker in April. Mel Krieger will entertain, inform and charm us all the evening of April 9th.
For those new to fly fishing or to his name, Mel is one of the few fly fishers to garner unrestricted praise from just about every professional casting instructor and fishing guide. And this praise comes from such diverse sources as Mike Lawson, Lani Waller, TV personality Curt Gowdy and Outdoor Life Magazine's Jerry Gibbs. As just one example of his talent, many years ago Mel gave a young boy his first casting lesson at the Golden Gate Casting Club in San Francisco. That young boy is now into middle age, but still consults Mel about casting. The boy's name: Steve Rajeff. Steve has been the World's International Casting Champion for about 25 years.
Mel grew up in Illinois and Wisconsin and later moved to Texas, where he learned to fish for black bass. While in the Lone Star State, he met Fanny, his future wife and partner. In 1964, they took a vacation to California, fell in love with the Bay Area and moved there immediately. While in San Francisco, Mel took up fly casting with a passion, became a tournament caster and, after winning a first prize trip to New Zealand in a casting contest, Me',s career as a traveling fisherman and instructor was born. It's almost 40 years later and today Mel and Fanny run the Krieger International School of Fly Fishing and Club Pacific, an angling and travel agency that specializes in fishing travel around the world.
He has personally taught fly casting and fly fishing at schools in Asia, South America, Australia, New Zealand, Canada, Scandinavia, all across Europe and, of course, throughout the United States. Wherever and whenever he appears, standing-room-only and turn-away crowds are the norm. His acclaimed book, The Essence of Fly Casting, has been so sought after it has been translated into such diverse languages as Norwegian and Japanese. His videos and DVDs, "The Essence of Fly Casting I and II", "Beginnings – An Introduction to Fly Fishing" and "The Essence of Spey Casting" are used as curricula around the world. Innovative programs created by Mel include the Fly Casting Certification Program, which is endorsed and administered by the International Federation of Fly Fishers.
Mel's presentation, titled "Mel's Exciting Adventure, will be slides and stories about the place in the world that has truly captured his heart and where he now visits as many as three times a year. You'll have to come to the show to learn what magnificent place has so affected this superb fly fisher.

MARCH 12 - BRIAN OKEEFE - ALASKA, TOP TO BOTTOM
Brian O'Keefe has been fly fishing seriously for the past thirty years.
He developed his deep-rooted interest while spending summers in Montana with his grandparents. There he was taught the art of fly casting and fishing by a Montana dry fly purist, his grandfather, Fred Johnson. Brian began fishing the world in 1973 just out of high school, with a solo trip through New Zealand and Australia, and a brief trek into the Himalaya Mountains to fish for brown trout. After returning from this two year adventure, Brian began guiding in the Northwest and Alaska for trout, salmon and steelhead.
At age 30 Brian began his career as a tackle rep and angling photographer. He is also an accomplished fly casting instructor, earning the title of Master Certified Fly Casting Instructor from the FFF. Brian has also placed and won many fly casting competitions and recently competed in the ESPN Outdoor Games' fly casting and fishing competition.
Brian has traveled to some of the wildest and most remote angling destinations in the world, including: Bikini Atoll, the Seychelles, Kenya, Sierra Leone, Tonga and Kashmir. He has also traveled to more accessible locations such as the Bahamas, Belize, Costa Rica, Venezuela, Chile, New Zealand, Christmas Island and more. In many of these location he chooses to venture off the beaten path, hiking, floating, sea-kayaking or taking a Zodiac into the back country.
Brian and his wife Judith live in Gates, Oregon. He continues to work as an angling and outdoor photographer with photos published in the LA Times, NY Times, Miami Herald, USA Today and others. His cover shots include Field & Stream, Outdoor Life, Fly Fisherman, Fly Rod and Reel, Fly Fishing Salt Waters, Outside Magazine and Men9s Journal. Brian is also a tackle rep for Scientific Anglers and Scott Fly Rod Company. Today you could just as easily run into Brian on his way to a slide show presentation as you could in an airport in Mozambique.

Fly fishing for Klamath River Steelhead
,

Mike Kuczynski

, Eureka Fly Shop

FEBRUARY 12

, 2003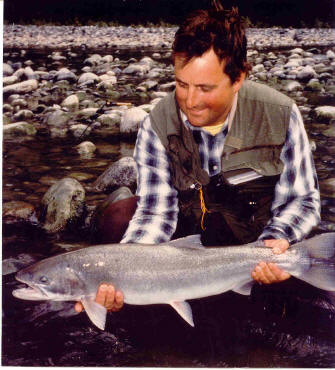 A life long student of fly fishing, Mike Kuczynski came to the north coast in the late 1970s to obtain a degree in biology and a teaching credential at Humboldt State University where he now teaches fly fishing and fly tying classes. His financial aid program for college was guiding in the summer, and tying flies commercially in the winter. After working as a sales representative for several years Mike and his wife Janet opened Eureka Fly Shop with the philosophy "luck is when preparedness meets opportunity", their goal to help provide customers with both.
Mike fishes extensively throughout the west in pursuit of a variety of species from Montana browns to coastal kings. He specializes in dry line steelhead technique, and is one of the pioneers of fly fishing for rockfish and surf perch. Mike fishes for cutthroat, salmon, and steelhead during the winter when he is not off to the tropics after bonefish, trevally, tuna and wahoo.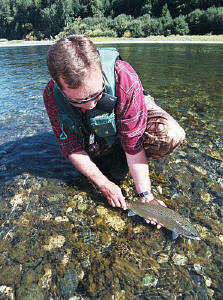 Mike with Klamath half pounder.
The Klamath has a reputation as one of the finest steelhead streams in the world. Adult steelhead begin to enter the lower river in July and run through October. This is an ideal time for the fly fisher the weather is mild, the river low and the fish eager. The first run of adults is followed by the famed "half pounders" in August, at 1-3 pounds these two-year old fish are fresh from saltwater, supercharged and aggressively hit surface flies. This makes them ideal for the light tackle angler using four to six weight floating lines. Adult fish run from three to twelve pounds and are spectacular battlers.
This program takes anglers through a systematic approach to the methods and techniques to experience this world class fishery.
Kevin Peterson - January 8, 2003 Speaker Bridgeport to Bishop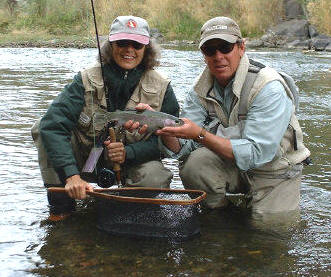 Kevin was born in Laramie Wyoming in 1957. At the age of three, he and family moved to Fort Collins Colorado where he began to develop his love for the outdoors. His father, who had worked for the Wyoming Department of Game and Fish and as a hunting and fishing guide, taught him to fish and hunt at a very early age. He quickly figured out that fly fishing was something that he truly loved to do!! Any free moment would find Kevin at The Thompson or The Pudre Rivers or whatever water he could get a ride to.
At 9 years of age, the Petersons moved to Costa Rica. His parents were involved with a land development project on the Pacific coast, where he spent all of his summers and most weekends. Kevin learned to surf and apply his love for fly fishing to the saltwater. After graduating from Costa Rica Academy in 1974, Kevin moved to Houston Texas where he spent any free time on Galveston bay fishing for Speckled Trout and Redfish. Finding that the big city was not for him, in 1978, he moved to Santa Barbara California. Even though he found the area beautiful and the fishing and scuba diving great, it was still a little too big. Since many weekends found Kevin driving to Mammoth to ski, hunt ducks or fish for trout, he moved there in 1981.
After working at a glass shop in town for almost ten years, Kevin was offered a job working part time and guiding for Fred Rowe at The Sierra Bright Dot. Part time became full time and in 1986 he was offered a partnership in The Eastside Guide Service at the newly opened Trout Fly. Sixteen years later, Kevin is co-owner and lead guide of both The Trout fly and The Trout fitter in Mammoth Lakes. He also enjoyed guiding for 6 years in the spring of each year for Clearwater house on Hat Creek until he became too busy at home. Kevin is an F.F.F. certified casting instructor and is currently helping the other guides at both shops get certified.
His love for the sport has continued to grow and he still loves to teach new fly fishers and show some of the old dogs a new trick or two! He loves to travel to The Bahamas to chase Bonefish, Florida for Tarpon or back to Costa Rica for Sailfish, Dorado and Tuna! You might find him on a Steelhead river in Oregon or a duck blind with his faithful Lab Tule. He could be found chasing wild turkeys near Paso Robles or on Mammoth Mountain snowboarding with his girlfriend Lisa. You could even find him behind the counter at on of the two shops, but one thing is for sure, you won't find him on the couch!!