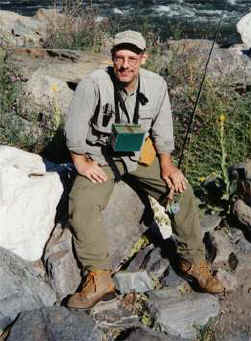 Bill Logan
If you are one of our club's fanatical and devoted fly tiers, this November's guest speaker is Mr. William Logan who is a well-known and highly talented flytier from New Jersey.
Bill Logan's passion for fly-tying began around the age of 5. As a boy growing up fly-casting on the South Platte River in Colorado, he always loved the early spring, when the two-inch wriggling nymphs of golden stoneflies sent trout into a feeding frenzy. At home in the evenings, he would watch his father, who wrote about fishing and hunting for the Rocky Mountain News, turn tiny hooks, feathers, fur and thread into lures that resembled the nymphs and other tasty bugs. "It was like magic," Bill recalled. Eventually, Bill was given a single hook, which he transformed into his first trout fly using scraps of thread from his mother's sewing kit.
Bill put himself through school twice. He has a Bachelor and Masters of Fine Arts. He lived in New York City for 10 years working as an editorial illustrator and Production Supervisor for LIFE magazine.
While studying art and working as an illustrator in New York City, he grew familiar with the bugs of the Catskills, home to some of the world's best fly-tiers. In 1993 he entered his first ultra-realistic fly, an Isonychia nymph in an international competition run Mustad. Bill Logan's fly won.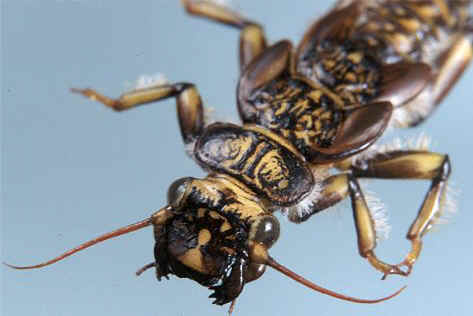 Not for fishing! One of Bill Logan's super-realistic art bugs.
He began testing new techniques and materials in his single-minded pursuit of the perfect replica. The pieces that would soon be on display in Manhattan are not for sale. They're all essentially prototypes. But he won't turn down commissions if there is someone out there seeking an ultra-realistic fly of his own.
Logan has become a favorite among serious art critics around the country with ultra-realistic trout flies that take him 150 hours to tie and are complete down to the antennae and the delicate gill tufts. Bill has been featured in Fly Rod &Reel, as well as illustrations have appeared in such publications as Life, the Saturday Review and Forbes Magazine. "His flies are works of art, more like sculpted models than fly patterns. Bill creates startling taxonomic detail and realistic morphology," Darrel Martin editor of Fly Rod & Reel said in a recent column.
Join us on Wednesday,, November 7th to see Bill's fly tying demonstration on pattern ideas and solutions followed by a slide show covering how flies perform and function in the water as well as fly fishing. This is going to be a great meeting so bring a friend.



Bob Slamal shows a striped bass he caught at Lake Skinner.
Bob Slamal, our October 10, 2001 speaker, grew up fishing Deep Creek near Lake Arrowhead with bait until he was converted to fly fishing. He fished Montana and Wyoming on family vacations. He's since fly fished the US from Alaska to Florida, and overseas from Baja to Norway. He was part of the 1993 winning four man team at the Jackson Hole One-Fly Tournament and has been on the US National Fly Fishing Team.
Bob now runs Riverside Ski & Sport where he conducts fly fishing classes and guides Lake Perris and Temecula's Lake Skinner. He's developed special patterns for the stripers at Lake Skinner. He also runs summer trips to Pinedale, Wyoming with his son Scott.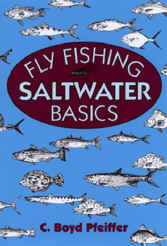 C. Boyd Pfeiffer, our September speaker, is an award winning outdoor journalist known for his fresh and salt water fishing expertise.
He's the author of: Fly Fishing Bass Basics, Fly Fishing Salt Water Basics, The Complete Book of Tackle Making, Bug Making : A Thorough Guide to Making and Tying Floating Bugs for All Gamefish-Bluegill to Billfish, and The Compleat Surfcaster, and many articles for fishing magazines.
He's been the outdoor editor for the Washington Post and a past president of the Outdoor Writers Association of America, who awarded him the Ham Brown service award.
Boyd makes his home in Phoenix, Maryland, but has fished throughout the world, including the US, Canada, Brazil, Australia, Panama, Belize, Columbia, Costa Rica, and elsewhere.
Boyd will be talking about the World's Greatest Fly Fishing Trips.

Our August speaker, Roger Bloom is the California Dept. of Fish and Game Wild Trout biologist for Southern California. He recently moved down from Northern California after working on the Statewide Wild Trout Program for more than 5 years.
Roger says "I am excited about my new position and I look forward to meeting the anglers in Southern California. I believe that there is great potential for the trout fisheries in southern California and know first hand that the support group already in place is phenomenal."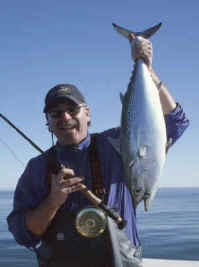 July 11, 2001: Ken Hanley
Saltwater Fly Fishing in Estuaries
and Harbors of California—Tying
Ken Hanley, our July speaker, will cover the wonderful opportunities for exploring our inshore saltwater habitat. His show will focus on "protected waters", areas where foot anglers and small craft operators can both revel in the beauty and action of pursuing wild gamefish on light-weight flyrods.
It's the perfect introduction to exploring untapped fisheries in our local region. Species included in the show are sand bass, halibut, white seabass, and much more. Ken is a 30-year veteran of the adventure recreation/environmental education industry.
He's written a number of books on salt water fly fishing: Fly Fishing The Pacific, Mexico: Blue Ribbon Fly Fishing Guide, California Fly Tying and Fishing Guide, The No-nonsense Guide to Fly Fishing Northern California, Fly Fishing Afoot In The Surf Zone, Fly Fishing Afoot for Western Bass.
A freelance writer and photographer, Ken has also a Contributing Editor & Columnist for California Fly Fisher, and has written for many fly fishing periodicals. He's a member of the Outdoor Writers Association of California
Ken is owner of Adventures Beyond (Established 1977 - programs conducted with over 10,000 students) Adventure travel business and field seminar/workshops. He's an instructor specializing in outdoor adventure skills including fly fishing, mountaineering, and wilderness photography.
Ken is on the Sage Pro Staff his sponsors include Wood River, and Islander Reels.
Ken's extensive field experience spans the globe; from the highest peaks in Tibet and the Himalayas, to the remote wilderness regions of Asia, New Zealand, Mexico, Europe, and North America. From pan fish to roosterfish, he's caught over ninety different species of fresh and saltwater game fish.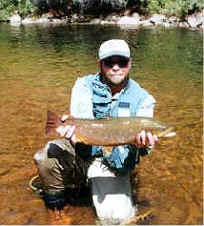 Kyle Holt, our June 2001 speaker, whose favorite saying is, "Fish Hard and Die Rich!", was reared in Springfield, Illinois. Kyle became heavily involved in fishing, hunting, and trapping the "flatlands" surrounding his home.
As fortune would have it Kyle's family decided to take regular vacations to Rocky Mountain National Park where he hooked his first Browns, Rainbows, and Brookies - subsequently becoming hooked himself.
In 1983 Kyle packed up all of his worldly possessions (which he relates were few) and moved from the cornfields to the Rockies in pursuit of any trout that would take a fly.
Kyle has been fishing in the Aspen Valley for fifteen years, and is now considered a sub-god by many of his clientele because of his skill and knowledge of the area waters.
On a less positive note, however, depending on your perspective, Kyle is also a non-recovering addict. A few years back, after taking a trip to the Bahamas with a group of apparently seedy people, Kyle returned to Colorado in a sorry state. He was tired, dehydrated, and constantly complaining of re-occurring flashbacks.
Everyone instinctively knew what had happened. The Bahamas, and the hedonistic lifestyle that he maintained while there had forever destroyed him. It had, as stated earlier, caused him to become an addict. . .to saltwater fly-fishing that is.
If you can't find Kyle guiding and fishing in the Valley, or at home with his wife Lisa and dog Milo, then the best bet is to look south. He's probably after another fix. From Taylor Creek Flyshop www.taylorcreek.com/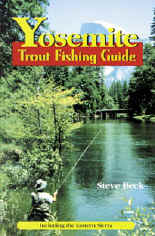 Our speaker for April 7, 2001, Steve Beck spent over ten years hiking and fishing in all parts of Yosemite National Park and the surrounding area. Yosemite has discontinued all stocking programs and the trout that now populate the 318 lakes and 1,361 miles of running water in the park, are all self-sustaining wild fish. Steve's book delivers history, and geography, along with practical and useful fishing information and a keen sense of what it is like to pursue rising fish in the grandeur of this great national park.
Steve says that some of the biggest trout in the park can be taken on dry flies in waters that are seldom visited. Trips can range from easy overnight outings to extensive week long expeditions. Steve will show slides of some less photographed, but still spectacular wild Yosemite.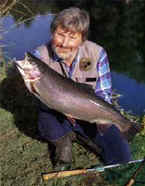 March 7, 2001 meeting featured Peter Cockwill who has run his own fishing syndicate water in England for some 16 years and his own shop for eleven. A well-known speaker on the club circuit in Britain, he is a regular contributor to Trout Fisherman magazine and the author of three books. The captor of the first 20 lb rainbow, he has twice won the Small Fisheries Championship, and has won the European Open. He has fished extensively in different parts of the world and regularly takes groups on salmon fishing expeditions to Alaska.
He can be contacted at Tel: 01483 205196