Jim Edmondson - Conservation Director CalTrout
They probably don't know it , but Jim Edmondson is the trout's best friend in California.
For the past 15 years, Jim Edmondson has been an active conservationist in California. Beginning in 1983, Jim worked as the lead volunteer for the program to restore Los Angeles County's wild trout streams. He later joined California Trout where he has held a variety of positions including Executive Director and his current role as Conservation Director.
As Conservation Director, Jim oversees CalTrout's conservation programs in five priority areas: Grazing, Wild Trout, Steelhead, FERC and Public Trust. Jim is personally responsible for Hydropower reform and Public Trust issues. He is a powerful advocate for the protection of wild trout and native steelhead and a tough negotiator who takes an active role in litigation and policy development. Under Jim's leadership CalTrout has restored water to Mono Lake, reformed livestock grazing policy throughout the Eastern Sierra, changed water law, seen the steelhead listed under the Endangered Species Act and helped create the Department of Fish & Game's Wild Trout Program, the first trout biodiversity management program in America's history.
Jim is a native of California and lives in Ventura. He has been featured on national television (CNN & CBS), local television and radio, and dozens of conferences as a keynote speaker. He travels the state representing CalTrout as a guest lecturer at colleges and universities. Jim has received awards from the American Fisheries Society, Environmental Federation of California, California Trout, Federation of Fly Fishers and others for his outstanding conservation efforts.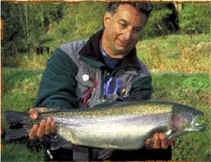 Jim Teeny (July 2000 speaker) was born in Portland, Oregon in 1945. He began fly fishing at the age of 12 and originated the Teeny Nymph Fly Pattern in May of 1962. The Teeny Nymph Company was started in July 1971. Jim currently lives and operates his business in Gresham, Oregon.
Jim has ten IGFA Fly Rod World Records to his credit and has done programs for "The Fishing Hole" with Jerry McKinnis, Fly Fishing the West with Larry Schoenborn, and his television series "Fly Fishing with Jim Teeny" ran six years in Tacoma, Washington.
In 1983 he designed the the revolutionary T-Series sink tip fly line. This one piece shooting head/running line has changed the way many people fish for steelhead, salmon, and other big game fish. In 1988 Jim's steelhead video titled Catching More Steelhead produced by Scientific Anglers won the best "How To" fishing video for the nation and received the Teddy Roosevelt Award.
In 1998, the Teeny Nymph Company changed its name to Jim Teeny Inc. You will still be able to find them at www.teeny-nymph.com or their new domain name, www.jimteeny.com



Our speaker for June 2000 was Bill Matthews, who operates Fly Time Guide Service out of Redondo Beach, CA. Captain Bill specializes in fly fishing local salt water such as Catalina Island for Bonita, Calico Bass, Sand Bass, White Seabass, Barracuda, Yellowfin, Croaker, Halibut, as well as Yellowtail, all on 7-10 weight fly rods.
Bill says "I started fly fishing when I was 8 and then during college I quit - but started back about 15 years ago. I have fished many places across the country as well as the Bahamas, Costa Rica, Venezuela, Mexico and Belize.
During my travels I learned a lot about this wonderful sport and I'm still fascinated with it! I also saw things that some guides did great and saw things that I thought could be better.
I started guiding by accident when a local guide started to have some problems and I was asked to cover his phone. The rest is history as they say. I received my Capt. License and Guide's License and I try to run a top-notch operation. I've been guiding the local waters for 5 years.
I've fished with many wonderful people on my boat such as Dave Whitlock, Nick Curcione, Ken Hanley and others. My goal is to have the clients have fun. My boat is set up for fly-fishing and has GPS, fish sounder, dual VHF radios and cell phone on board.
I have many clients that travel and they enjoy the fact that they can walk on board and have everything they need on the boat! It saves them the hassle of always packing their gear. For me it's about having a good time, learning a little and spending a day on the water. I get as excited about catching the fish as the clients do! It's also about seeing the ocean in our back yard; dolphins, whales and many other creatures are out there and sometimes get over looked.
Last year a client from Boston was so amazed by some gray whales that we spent almost 3 hours just following them and taking pictures."
Captain Bill can be contacted at 310-540-3539


A.K. Best: Matching the Naturals
A.K. Best was born and educated in Iowa. His varied career has included a two year stint in Japan as a musician with the 56th Army Band, working as a Symphony Orchestra Conductor, tying commercially for the Orvis Company, and as an author of fly fishing books.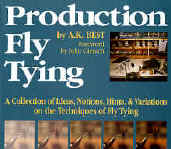 His book Production Fly Tying was the United Fly Tyers Book of the Year in 1989. He has a new book out, Dying and Bleaching.
He lives in Boulder, Colorado now, and has fished for Tarpon, Bone Fish, Stripped Bass, Blue Fish, Pike, Bass, Bluegills, Crappie, Steelhead, Salmon, and Trout.
A.K. is known as the originator of a series of quill body dry flies including: Olive Quill Dun, Olive Quill Parachute, Tricho Quill Parachute, and many others.



Tom Loe is 40 years old and is married to his high school sweetheart Michele. They have two golden retrievers to round off their family. Conejo Valley locals, both grew up in Thousand Oaks and graduated from Thousand Oaks High School in 1977. Tom fished Lakes Westlake and Sherwood as a boy. Tom's mother currently lives in Thousand Oaks and his dad in Moorpark.
Tom has been an owner/operator of commercial fishing vessels for the last 20 years. During this period of time he primarily fished the Pacific Ocean, harpooning swordfish. He spent some time in the Atlantic Ocean chasing Broadbill Swordfish , and giant Bluefin. Tom is a United States Coast Guard licensed captain as well as fishing guide.
Over the last decade Tom and Michelle have spent the majority of their shore time in the Eastern Sierra in the Bishop/Mammoth Lakes area. They both grew up vacationing and recreating in this area and had dreams of living their and starting a guide service for fishing and hunting.
After some strange twists of fate, (and weather… Tom survived the "Perfect Storm") some good, some bad, they relocated in their present house on McGee Creek, overlooking Crowley Lake.
Trout fishing has been Tom's passion since he was very young. He says "It has been an almost maniacal fashion in which I have attempted to discover novel and better ways to fool these beautiful critters". He experimented with fishing the Lower Owens River in a drift boat, and Crowley Lake from a flats boat, and the result was his "Sierra Drifters Guide Service". Tom and Michelle started Sierra Drifters in December of 1998, and as of November 1999 have assisted over 500 people in fishing and hunting the Eastern Sierra.
Tom provides his monthly "Eastern Sierra Report" to the club. His webpage is at www.sierradrifters.com He has guided many CVFF club members… for more info phone 760 935 4250

Joseph Humphreys is a nationally known fly fisherman, conservationist, author and educator. He has been a fishing instructor for over 40 years. His pupils have included former President Jimmy Carter, former Secretary of Defense Richard Cheney, basketball coaching legend Bobby Knight and many others.
Mr. Humphreys has authored numerous books and articles on the sport of Fly Fishing including: Trout Tactics Trout Tactics Revised and On the Trout Stream. In addition to these major and well respected works, he is a regular contributor to regional and national journals and periodicals including:: Fly Fishing, . Outdoor Life Pennsylvania Angler, and the fly fishing column of Flyrod and Reel Magazine.
Mr. Humphreys is also nationally known as one of the foremost educators in angling. For nineteen years. he directed the angling program at Pennsylvania State University, providing introduction and foundation to young and old for a life-long enjoyment of this sport. His students have become the advocacy base that Our Pennsylvania waters will always require. In addition to his work as a clinician for Fenwick-Woodstream, Cortland Line Co., and the Allenberry Resort, he has lectured throughout the United States enhancing the reputation of Pennsylvania fishing.
Mr. Humphreys hosted the first national fly fishing series on US television, "Fly Fishing Journal which was cablecast on ESPN. Since then. he has been the featured instructor on three fly fishing videos -The Fly Fishing Series, A Casting Approach to Nymphing Tactics"and A Casting Approach to Dryfly Tactics in the Brush.
Mr. Humphreys is an accomplished and renowned fly fisherman and conservationist. As a result of his excellence, dedication and consummate knowledge of the sport, he was chosen to represent the United States as a member of the US Fly Fishing Team in the World Championships of 1989. 1990 and 1992. He is a recognized conservationist, having won the prestigious Thompson Award for saving Spring Creek. His efforts ensured that this great fishing stream will remain viable and a significant contributor to Our Pennsylvania fishing

legacy for many generations to come



Michael Fong was born in Sacramento, California in 1939. He is a first generation Chinese American and has been fishing since he was a young boy first using a cane pole and then using spin fishing equipment imported from Europe after world war II. When fishing for largemouth bass become something he enjoyed, bait-casting equipment was acquired and in the late 50s, Michael started to fly fish.
After graduating from C. K. McClatchy High School, Michael attended the California College of Arts & Crafts in Oakland, California, where he met his wife Christine. A visiting professor named Byron Burford from the University of Iowa offered Michael a position as his teaching assistant and the Fongs moved to Iowa for two years. During this time, Michael earned his Masters of Fine Arts degree in painting and drawing. After returning to the San Francisco Bay Area and working in the graphic arts trade, Michael wrote and sold his first angling article to OUTDOOR LIFE magazine with photographs taken by Christine in 1967. Since that time, Michael's articles illustrated by Christine's photographs have been published in every national outdoor magazine that reports on fishing and their writing and photographs have also appeared in many books. They have fished extensively throughout North America, in Central America, South America, New Zealand, the Bahamas and in Europe catching most of the popular game fish from trout to sailfish on the fly. Mike and Chris can be seen regularly on syndicated TV channels in segments of CHARLES WEST'S OUTDOOR GAZETTE and on ESPN in CHARLES WEST'S BACKCOUNTRY. Michael is a contributing editor to FLY FISHERMAN MAGAZINE and was a former editor of THE FLYFISHER, the magazine of the Federation of Fly Fishers. He is a Life-Member of the FFF as the result of the Arnold Gringrich Memorial Award.
Presently, Michael and Christine spend most of their time fishing and producing THE INSIDE ANGLER, a fly fishing newsletter that reports on the most productive public and private fly fishing destinations in western North America. This bimonthly publication, printed in black and white, was begun in January 1992. It recommends guides, outfitters and lodges catering specifically to anglers and posts prices for all services. Michael and Chris have been featured speakers with the International Sportsmen's Expositions since its inception and speak professionally to groups across the country on a regular basis. The Fong's sponsors are FENWICK and UMPQUA FEATHER MERCHANTS. In 1996, Michael and Christine were presented with the ROSS ALLEN MERIGOLD COMPLETE ANGLER MEMORIAL AWARD by the Pasadena Casting Club, only the second anglers to have been so honored.