Road Trip
Club member Tom Greenup recently purchased Ashegon Lake Resort in his home state of Wisconsin. Tom plans to retire there with his wife, Diane, in March 2001. Tom was delivering a truck with a trailer full of assorted stuff and asked if I would be interested in going on a road trip with him.
I was a bit hesitant since this would be a 2,100 mile, 4 day trip, but Tom enticed me with the prospect of catching muskies, walleyes, and small mouths on a fly once we arrived. "Still, it's 2,100 miles", I said. "How about a couple day layover at Larry Martin's condo in Colorado?." "I don't know." "But wait, there's more, we can stop at Cabela's!" Now how much would I pay? I was on board.
As it turned out, Ironman Tom did all the driving. I offered to drive, but he said he makes a better driver than a passenger. Right. One little rollover and people never forget.
Our journey took us through Nevada, Arizona, Utah, Colorado, Nebraska, Iowa, and Minnesota before arriving in Wisconsin. The drive was long, but uneventful. The truck had very stiff suspension; one James Bond would love: Everything was sh-sh-shaken, not stirred.
We left Thousand Oaks on a Thursday afternoon and spent the night Price Utah. We arrived at Larry's condo in Carbondale, Colorado on a cold, rainy Friday afternoon. After getting settled and obtaining licenses, we headed for the Frying Pan River.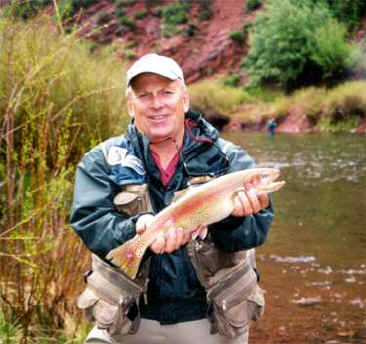 Tom with Frying Pan bow
Frying Pan
The Frying Pan is a tail water fishery that emanates from the Ruedi reservoir and runs 13 miles to its confluence with the Roaring Fork in Basalt. We decided to try just below the dam where fish weighing in the double digits is not uncommon. This section was recently featured on a segment on Flyfishing America on ESPN. These fish get very large due to the abundance of Mysis shrimp in their diet. When we arrived, we found the water level relatively low and clear. We were told by the local fly shop that there weren't many shrimp in the water, so we fished sized 20 midge larvae.
I spotted a pod of very large fish, but could not entice them to take my offerings. Meanwhile, Tom had no luck either and had not even seen a fish. He was ready to head downstream when I pointed out the fish that I spotted and invited him to try. Needless to say, he caught a very beautiful rainbow. I get the assist for spotting. He proceeded to hook, land, and lose several other very large rainbows while I could only spot, watch, and cheer. "Hooray!" It's a dirty job, but….
The promised evening hatch never came off and the fishing didn't improve, but we still had a great time.
Blue and Sopris Creeks
The next day, we fished the private waters of Blue and Sopris Creeks, which are on the property of Larry's condo. We fished Blue Creek in the morning and Sopris Creek the rest of the day. We didn't do too well on Blue, but what a day on Sopris! Most of the fish we caught were in the 12-14" range, with a few 18"+. All fish were very strong and beautifully marked. Most were taken on a Tom's baetis nymph and PT's, sized 18. We fished the entire length of Sopris on the property, which is about 2 miles and didn't see anyone else until late in the day. All was as advertised. If you ever have the chance to fish here, I highly recommend it! Many thanks, Doc.
On the Road Again
We had about 1,300 miles to go, so we decided to hit the road early Sunday morning. The miles were long, but we broke it up by stopping at Cabela's in Kearny, Nebraska and Owatonna, Minnesota. The Owatonna store was amazing! Aside from all the great stuff, they had wildlife displays that rival those in museums. They also had fish tanks that contained both warm water and coldwater species. I got a sneak preview of what I had been promised: muskie and northern pike! Very mean looking fish.
We rolled in to Lake Ashegon mid afternoon Monday. Lake Ashegon is located in the northern Wisconsin, about a hundred miles south of Lake Superior. The nearest town is Couderay.
What a beautiful lake! Tom says there are 5 species of trout, large and small mouth bass, bluegill, crappie, sunfish, and walleye in this 75-acre lake. There is also a rumor that there are a few musky. I fished it quite a few times while I was there and landed a lot of large mouths, bluegill, and sunfish. Aside from the fish, there are a couple of resident bald eagles.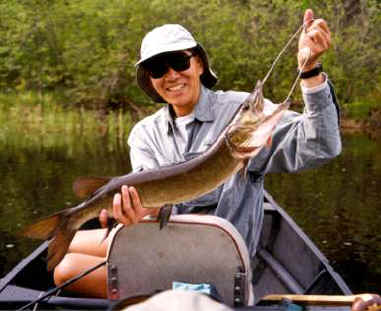 Watch those fingers, Jimmy!
Musky Adventure
Tom and I fished with guide Dan Edwards from Boulder Lodge on Ghost Lake. Fly fishing for muskies is not the typical fishing method in the area and since muskies are said to be a fish of 10,000 casts, I was wondering how well we would do, but Dan assured me that we would definitely hook a few. And he was right!
Dan told us that when the musky takes, do not lift, and do not strike, until we feel the weight of the fish. Sounds easy. Then point the rod at the fish and do multiple strip sets with the line hand. "Set, set, set!" was replaced by "Hit him, hit him, hit him!"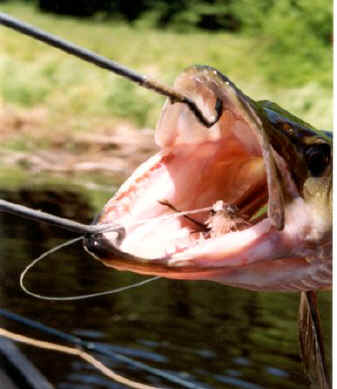 Business end of musky
We fished the Chippewa River above the famed Chippewa Flowage, where the world record 69 lb musky was caught. We fished with a deer hair fly that Dan tied that imitates the polliwogs found in the Chippewa. We would cast as close to the bank as possible, then retrieve with slow, short strips. We fished 8 weight rods with floating lines and leaders tapered to 16 lbs. We added about 18 inches of 60 lb bite tippet.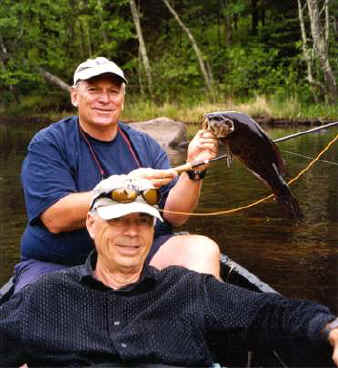 Tom with small mouth, Dan Edwards in front.
Dan is a great guide and really knows where the fish hang out. We were on the water no less than 10 minutes before Tom hooked his first of many muskies. Unfortunately, he didn't land that one or too many others. In the course of our 9 hour float, Tom hooked about 11 and landed 4. To Tom's defense, his strikes usually came as he was lifting his rod to recast. He had a couple that bit through his 60 lb bite tippet! I did a bit better. I hooked 10, and landed 6 muskies! Who said catching muskies is tough? As a bonus, we both caught a few good sized small mouth bass. What a great day we had with Dan!
If you're interested in visiting Tom in Wisconsin and trying for a musky, check out the following websites:
Dan Edwards - www.flyfishingworld.com/experts/dedwards.htm
Ashegon Lake Resort - www.ashegonlakeresort.com
Ashegon Lake - www.bigmusky.com/Maps/ASHEGON%20LAKE.htm