Bob Smith, Pam Pfeiffer, Pete Sumner, Gary Scott, Jimmy Toy, Bill Becher, and Mammoth guide Gary Hooper made a trip to the Green River in Utah, below Flaming Gorge Dam, the first week of May. Gary Scott and Pete had a real fly fishing road trip, as they fished the Sierra Opener in Mammoth before driving to Utah. They made use of Denny Breer's Trout Creek Flies 2 for 1 guide donation to the club's 1999 fund raiser and fished the A and B sections with TCF guide Jeremy.

Jimmy, Bill, and Gary Hooper walked the A section 2 days, encountering midge and baetis adult and spinner hatches. Seems the fish get a bit pickier each year, and want smaller flies. Size 22 CDC baetis worked for Jimmy, who landed at least a dozen fish on the A fishing from Little Hole. This year we passed up the bank sitters the first couple of miles, and hiked in until we came to some less populated water. Gary Hooper had 30+ fish…. But he is a pro…

The next day we had planned on floating the river in pontoon boats, but there was a notice posted that the river would be taken down to minimum flows to allow for the recovery of a driftboat that someone had wrapped on "Mother In Law" rock. Fortunately the changing flows didn't seem to affect the fishing. The famous Green River Cicada hatch was starting. We did well with terrestrials, Jimmy on his Jimmy Hopper, Bill on a Chernobyl Ant and a Cicada left over in his fly box from New Zealand, and Bob Smith on his own design Cicada.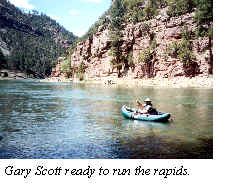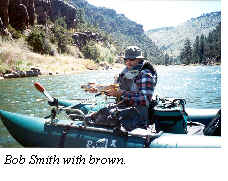 Thursday a flotilla started from below Flaming Gorge Dam: Bill Becher, Gary Hooper, Gary Scott, Bob Smith and his friend, also Bob. We soon found that shooting relatively mild Class III rapids was a blast, and we were able to land and fish water we wouldn't have been able to access on foot. Gary Hooper as slaying them on a foam top size 22 emerger with Antron shuck. I tried a similar fly with black hackle and wire rib, but no takers. Apparently the fish wanted minimalist flies, as after I clipped off the hackle and ribbing, they ate it!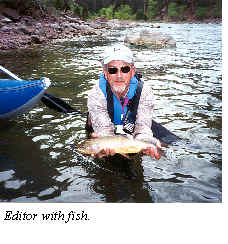 Meanwhile Jimmy hiked down to the B Section, where fishing was tougher, though he landed a nice 20" brown among other fish.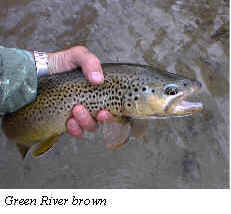 We were catching cutts and rainbows on the upper section of the river, and mostly browns lower down. Gary H caught the same 20+" cutt both days on the same fly, confirming the rumor that cutts aren't the smartest fish in the river.
Friday we drifted again, lots more fun. Saturday some of us headed to the Provo River for some more great, though crowded, fishing for very healthy browns.