At 2:00 a.m., September 7th, fellow member Steve Anderson and I set out to conquer the Lahontan cutthroat trout of Heenan Lake, located approximately 30 miles west of the California/Nevada border, near the town of Markleville, California.
Heenan Lake is a 135-acre reservoir on a small tributary to the East Fork of the Carson River. This water is on the DFG's Heenan Lake Wildlife Area. For several decades it has been the home of the Department's Lahontan Cutthroat trout brood stock. Spawning cutthroat are trapped on the inlet stream and several hundred thousand eggs are collected annually for rearing at Hot Creek Hatchery and Nevada Department of Wildlife facilities. These trout are stocked back into Heenan Lake and more than 30 other eastern Sierra lakes, as subcatchables.
Heenan's season is short. It is open Fridays, Saturdays and Sundays, from the Friday before Labor Day through the last Sunday in October. Lahontan cutthroat frequently grow to well over 20 inches in length however the fish is Federally listed as a Threatened Species.
En route, we planned to fish Crowley Thursday morning. We were in the water shortly after 8:00 am. While Steve paddled up towards the mouth, along the west side, I stayed close to shore and remained just north of the parking area. I spotted a tiny weed bed, the only one I have seen so far this season. Midges were everywhere! We both caught a lot of fish, including a 22 incher, the biggest I have taken from the lake. Why couldn't it have been September 23, the day of the Double Haul?
Anyway, fishing was so terrific that we stayed until late afternoon. We didn't get to our camp site until 10:00 pm. We camped in room #102 at the Topaz Lodge and Casino in Nevada. We had fished seven hours and driven approximately 420 miles. Not a bad first day!
Friday morning we were up at zero dark thirty. Breakfast at the casino and off to the lake. The drive takes approximately 30 minutes. We arrived about 7:00 am to a half full parking lot.
By the time we suited up and got down to the shore, a huge midge hatch was evident, particularly along the south side of the lake. It seems that everyone fishes Prince Nymphs, size 12-14, regardless of the hatch.
We started out like everyone else, slow trolling PN's. We saw very few hook ups and luck was not with us. About 10:00 am, I kicked to the south shore. While taking care of business, I spotted several sets of bear tracks in the mud.
While fishing from shore, I thought I might try a strike indicator (a la Tom Loe) above the PN's. "Loe" and behold, almost immediately I started taking fish. Steve paddled over, took care of business and also added a strike indicator above his flies. He too began to catch fish. Between the two of us we caught about 20 of these monsters, the biggest being about 21 inches. None were smaller than 16". A number of tubers came by, just to see what we were doing.
As an aside, Steve's utilized a unique method by tying four flies on below his indicator. He covered every possible depth, from 4-10 feet! Seems as though he was creating his own hatch. His casting was awesome.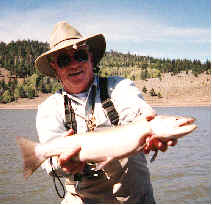 Garf with Heenan Cutt
Steve described the Lahontans as "bulldogs." It was not necessarily how far the fish would run once hooked, but the tenacity with which they fought. They never seem to tire.
I did catch one fish that took me 50-75 feet into my backing. Convinced that I had hooked one of the legendary 30+ inch fish, my pulse quickened as the fight was on. However, when the fish was ultimately brought to the net, about four minutes later, it appeared as though I had inadvertently hook him in an orifice other than his mouth.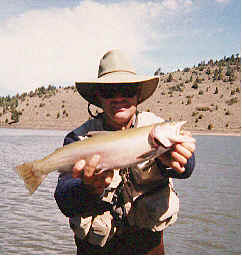 Steve Anderson and fish
Saturday morning we awoke one half hour earlier than zero dark thirty. We returned to the lake believing we had mastered the Lahontans and would soon become legends. We endured until noon, for four fish. Although, that seemed to be more than most.
We drove to Crowley and returned to Green Banks. This time we left our boats in the truck. We waded the shore while midging until dusk. We caught fish after fish standing side by side, without ever leaving our spot. There was some serious bonding taking place during a windless sunset! We started home after 8:00 pm, arriving well into the morning hours. Statistics for the last day; nine hours of fishing, more fish than one can count and 420 miles. Life is good!