[ Home ]
[ Up ]
[ Kit's Crowley Monster ]
[ Mammoth 97 ]
[ San Juan 12-97 ]
[ West Fork San Gabriel River 12-97 ]
Fishing for Footballs
By Bill Becher
Jimmy Toy and I fished the San Juan River in New Mexico last week for oversized trout shaped like rainbow footballs. Here's our report:
Sunday December 14, 1997
Jimmy and I drove a rented RV straight through from Westlake Village, CA to Navajo Dam in about 16 hours. The rental was a "test run" for the RV camper I plan to buy. My wife suggested I "try before I buy". We were able to trade off driving and resting in the back so the trip was pretty easy except for the part where Jimmy confessed that he had fallen asleep on an earlier fishing trip to Mammoth while driving and had rolled over his car twice, totaling it. Of course he waited until we were 200 miles from home before 'fessing up.
We had tied San Juan specials the week before the trip, having obtained sample flies and recipes from Mike Mora at Fit to be Tied Fly Shop. Mike was very helpful in sharing his experience and ties beautiful flies! Check out his excellent San Juan Fly Fishing Page. Our ammo included San Juan Worms in various colors, eggs, leeches, emergers. Hoping for a winter hatch, I brought along some Bob Brooks' CDC Baetis and Baetis Sprout emergers.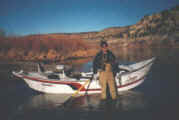 Monday December 15
We met Tom Teuchert of Rizito's for a float trip - our plan was to see as much of the river as possible the first day. Jimmy had fished the San Juan a number of times before, but it was my first trip. This was also my first experience in a McKenzie style float boat. Very nice! We put in at the Texas Hole and floated to the Pumphouse Run. Tom did a great job.
After all that tying "San Juan Specials", Tom started me with a Brassie and a Wooly Bugger! The Brassie didn't produce, but I caught a number of nice fish in the Wooly Bugger (brown #10). I had beginner's luck, landing about 20 fish. My biggest was a PR rainbow, 23" at Tim's Pool on a #20 RS2 that took about 20 minutes to bring to the net. This is my first year of serious fly fishing, and the San Juan and Tom taught me a lot about fighting big fish. I learned to "walk the dog", to try to keep the fish in slower water and run through the rapids when this didn't work. Jimmy did well after switching to an RS 2 below an orange leather worm.

Bill's 23" Rainbow
The leather worm (we named it the "Moo Worm") produced well for Jimmy all week. I told him it was a strange choice for a vegetarian, but he said, "Hey, I'm not eating it." Jimmy had raided the craft store for leather lacing in various shades of red, orange, and brown. The orange and tan worms worked the best for him.
That evening I tied up a bunch of RS2's in gray with a thread body and Super Fine gray thorax in #22.
Tuesday December 16
We did a half day wade trip with Tom, starting at the Texas Hole and working mostly the main channel up Abe's Run. Jim started with his orange leather Moo Worm above an RS 2, a combination that worked well for him. Jimmy caught about 20 fish, the largest about 21". Bill started with a chartreuse Electric Egg and quickly switched to orange chenille SJ worm and RS 2. Bill caught about 15 fish, including one brown about 16". (We only caught two browns all week).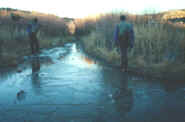 The smaller channels were iced over in the morning
Wednesday December 17
We were on our own, starting at Audie's Run (above the Texas Hole) and fished the main channel, Abe's Run, and the Upper flats. Bill had a bad tackle day, spending a lot of day fixing tangles and replacing flies left in the brush or on sunken sticks, but still managed to bring 8 fish to net. Best flies were Red Hots, Chenille and Moo Worm, and Aura Borealis in gray.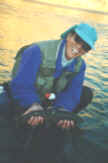 Is this guy having fun?
Thursday December 18
More of the same. We fished Baetis Bend to Lunker Alley. About 3 p.m. Jimmy spotted adult Baetis on the water and rising trout so we switched to dries. Bill hooked one a Brooks Sprout Baetis Emerger, but his best fish was an 18" 'bow that was rising regularly near the bank. I tried to remember my lessons, and tied on a Brooks CDC Baetis #20 on 6x fluorocarbon tippet. I cast below the fish to get the range, then floated the fly twice into his "box". The second drift did it, with a huge snout poking up out of the water to take the fly. I landed and released him. This was major fun!
Friday December 19
We were concerned about reports of a big snowstorm coming our way, but the morning was clear and we fished all day. We went back to Texas Hole, Main Channel, Upper Flats to the Beaver House. Jimmy had a blast sight fishing with his Moo Worm in the Flats. Wading through we spooked a couple of fish that swam with their backs out of the 6" deep water, like a couple of submarines running on the surface. Bill had better results fishing in the slow water right below where various inlets emptied into the main channel. A couple of big fish caught air running downstream, with me running to catch up and land them in the slower water. Jim brought 17 fish to net, Bill had about 10.
Weather notes: The weather was great, comfort wise, all week. Nights down to about 10 degrees, but rapidly warming when the sun came up to 45-50 degrees. Stream-flows were about 800 cfs during the week. (The flow had been lowered to about 200 for a day the previous week to retrieve a body from the river lower down. Wade carefully!). Water temps were the constant advertised 45 degrees with cloudy greenish water.
Hatch notes: Midges appeared each day after about 10:30 to 11:00 am. There seemed to be three kinds, one all black, one gray with a black thorax, and one with olive abdomen and black thorax. Baetis appeared later in the day near Baetis Bend, (makes sense). The midges were #22 and smaller, the baetis fairly big, about #16.
Equipment notes: We fished with 5 wt rods, about 8-9ft 4x leaders with 5x tippet, poly yarn indicators, and one or two #4 split shot above a point fly (SJ Worm, Moo Worm, etc) with a dropper tied onto the bend of the point fly (RS 2, Red Hot, Aura Borealis, etc). My Simm's wading boots with studs worked great, providing good grip on the slippery sandstone in the river, and on the iced over inlets during the morning and evening. We layered fleece clothing. I used an inner stay dry layer, then Expedition weight long johns, then neoprene waders. The best way to keep feet warm for me was Simms wool socks under fleece socks (make sure you can still wiggle your toes). Jimmy used chemical hand warmers in his gloves (sold at ski shops or at Abes or Ruzitto's) and said they worked well. You need a big net to handle San Juan fish!
Flies: Best flies for Jim were his Moo Worms in orange and tan. They were tied from leather lacing from a craft store, split in half to be about 1/8" square and 1 1/4" long on a 2487 scud hook. Bill had good result some days with brown Woolly Bugger #12, and tan chamois worm on 2457 #14, in addition to Micro Chenille Orange San Juan Worms on #14 2457 hooks. Best dropper fly was (# 20 or 22) RS 2 in gray. Also producing were: Aura Borealis on 2487 with gray or black thread body with silver wire rib (gray worked the best), Red Hot which was simply red bead had and red min larva lace on 2487, and small Realistic Worm.