[ Home ]
[ Up ]
[ Kit's Crowley Monster ]
[ Mammoth 97 ]
[ San Juan 12-97 ]
[ West Fork San Gabriel River 12-97 ]
Mammoth Summer 1997
By Bill Becher
I made four trips to Mammoth to fly fish in '97 - this was the start of my serious fly fishing. First trip was in July, and included some fishing with Taylor Burch. Later trips were in September and October, total about 45 days of fishing.
I fished Hot Creek, San Joaquin, and East Walker River with Gary Hooper, a guide out of Rick's in Mammoth. Learned a lot from Gary. I learned to love fishing dry flies for wild trout. Hot Creek worked best with small Elk Hair Caddis, East Walker with a caddis emerger of Gary's design (this was also the start of my fly tying).
I fished one weekend with my son Bill and his fianc' Libby.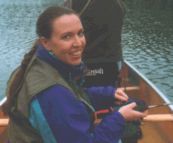 Libby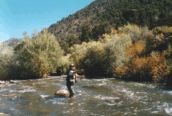 Bill III fishing at East Walker
Later in the season I spent a day with Bob Brooks, Riverkeeper at Hot Creek Ranch and learned a lot more, both fishing and tying his original patterns for Hot Creek, including the Sprout Midge, CDC Caddis and Baetis, and Baetis Sprout Emerger.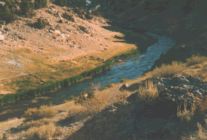 Hot Creek