Larry Garfinkel and I wanted to be on Hot Creek for the opening day of the Sierra trout season, but we couldn't leave any earlier than Saturday morning. So, we left at 2AM Saturday with the plan of arriving at Hot Creek around 7AM.

We arrived at Hot Creek at 6:45 and to our surprise, there were no more than 10 cars in the three lots combined! Although no fish were rising, I decided to fish a small CDC midge emerger and Garf rigged up with nymphs.

Both were good decisions as we did well with lots of rainbows and browns between 9 and 15" until 10:30, when the surface action slowed for me, but Larry found a pool where his problem was trying to determine which fly the fish wouldn't take! Rats!

Needless to say, he set up shop there for most of the day. To his defense, the creek was getting very crowded and he would have had a hard time finding another good pool. Rats!

While Larry was catching fish after fish, I decided to venture upstream in search of rising fish. I ran into Scott Olson and Mike Bereney, who had been to Big Springs that morning, but they reported fishing was poor. As we talked, I saw a rise.

Since they were nymphing and not really fishing in the direction of the rise, I made a couple of casts and managed to hook and land a nice rainbow. A few more fish started to rise and that was enough to get Scott to re-rig with a dry.

I unashamedly landed a couple more. With that, Mike changed over to a dry, too. I could see my job there was done and moved upstream to hog in on other fishermen.

My lack of etiquette must have angered the fish gods because the wind picked up and I didn't get anything else for the next couple of hours, but I had fun walking the crowded creek. I went back downstream and ran into Gary Olson and his son Ryan. They had tubed Crowley with Pete Sumner and all did well until the wind came up.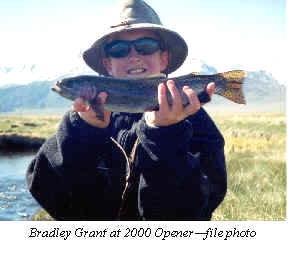 Jim Grant and his son Bradley arrived as well. They had been to Crooked and McGee Creeks and reported that they had done well at McGee, but Crooked Creek was tough in the wind.
I told them how well Larry was doing so we all headed downstream and found him fishing in the same pool. Still catching fish. With a big smile, Larry graciously relinquished his spot to Jim and Bradley and called it a day.
I was in complete agreement. What a day it had been. Great weather, great fishing, an awesome stream, and terrific fishing company! - Jimmy Toy.