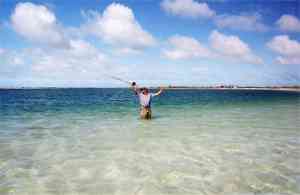 It was the trip of a lifetime. Twelve CVFF members— Steve Anderson, Bill Becher, Wayne Caywood, Larry Garfinkel, Gary Hooper, Larry Martin, Brad Nicholson, John Nicholson, Jimmy Toy, Bill Sarrocco, Tom Greenup and Mike Weigand flew to Christmas Island aka Kiribati), via Hawaii to fish for bonefish, three species of Trevally, and the occasional barracuda.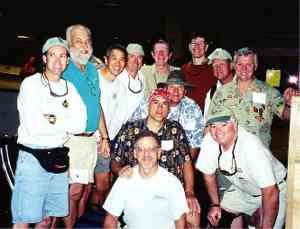 This was the first time to Christmas for everyone except Wayne, who organized the trip, and the first time flats fishing for everyone except Wayne and Gary.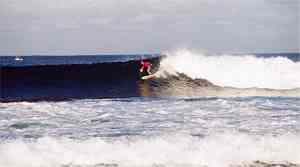 Big surf on the North Shore
Some of us stopped in Hawaii for some sightseeing. We took in the Arizona Memorial, surfed an outrigger canoe courtesy of Tom's niece's fiancé who was a member of the Waikiki Outrigger Canoe Club where we applauded a great sunset (saw in emerald flash) and had a great dinner.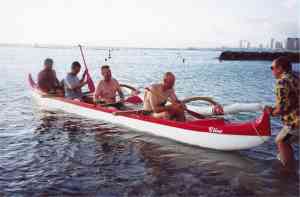 Outrigger canoe at Waikiki.
We also visited the only fly shop in Hawaii and watched some surfers on the North Shore.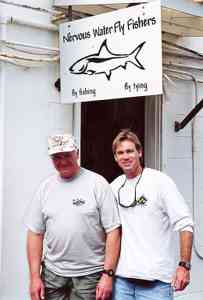 Mike Weigand and Steve Anderson
We did some snorkeling to check out the underwater life and saw a large sea turtle: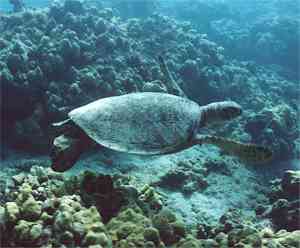 Here is my article for the Daily News:
"Trevally" yelled Beia, my normally quiet spoken fishing guide, pointing to a dark moving spot in the water. We were fishing from shore at a small cove on Christmas Island, 1,300 miles south of Hawaii. I had been casting to the bonefish that are the featured game fish here. But we were on the lookout for giant trevally, a fish that can weigh a hundred pounds and will eat a fly. It was midday and we'd been killing time until the rest of our group from the Conejo Valley Fly Fishers showed up for lunch.
Beia handed me the heavier fly rod we'd taken for just this sort of opportunity. I cast a large popper in the direction of the dark spot. "Strip, strip, faster, strip faster," said Beia. I'd already missed this fish earlier in the morning, he was periodically coming close in, presumably to dine on the schools of milkfish huddled near shore.
In a sight that will feature prominently in my personal fishing highlights reel, the trevally's mouth and eyes broke the water, chasing the brightly colored popper with a look of fierce determination as the fly splashed along the surface like a fleeing baitfish. "Strip, strip," yelled Beia. "He's on," I said. The fish pulled hard, the line streamed out of my reel. I waded into the water, hoping to follow the fish out the opening to the cove and avoid breaking the line on the sharp coral. I wondered if I should have gotten more backing, the fish was a long ways out. But I was able to follow him and screw down the drag a bit.
The next forty-five minutes was a tug of war, reeling in line only to have the fish run and reclaim what I'd cranked in. Other members of the club shouted advice and encouragement. I was the lunchtime entertainment. It's nice to have an audience when you have a huge fish on, but it does add to the pressure not to screw up.
I was gaining on the fish, and finally could see him in the shallow flat off the beach where I was standing. I hadn't realized how big a fish I was dealing with. I "walked the dog", changing directions on the fish. Beia waded in and grabbed his tail. Wayne Caywood, owner of Malibu Fish N' Tackle, who had organized the trip, weighed the fish. But his scale only went to thirty pounds and it was pinned. This fish was by far the biggest I'd caught on a fly rod, and destined to grow as all fish do when the catching is retold. Just lifting it for photographs was hard, but pride and leftover adrenaline made it easier. It was time to revive the fish, I sloshed it back and forth, forcing water through it's gills. The CPR worked and the trevally swam slowly out of my grasp.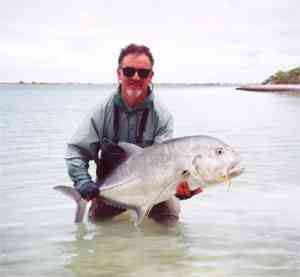 Bill's GT
While this was certainly the highpoint of the trip for me, there was lots of other great fishing. You will often find trout fishing guides fishing for bonefish in the winter months, as was Gary Hooper, a guide from Rick's Sport Center in Mammoth Lakes, CA. Not just because it's an opportunity to trade snow and chill winds for sandy beaches and warm trade winds, but because sight fishing for bonefish is reminiscent of the best trout fishing and the bonefish are great fighting fish. Even a small one will go on screaming runs.
Teannaki, one of the senior guides, spent a morning teaching me how to "sneak" bonefish, quietly stalking them before casting. "Bow, please," he would say so the fish wouldn't see me. "Bow lower, walk slowly, please." Like most fish in skinny water, bonefish are nervous and quick to bolt when something startles them. Several times I was ready to cast to a nice fish, only to have it swim away at the last moment when a bird flew too close.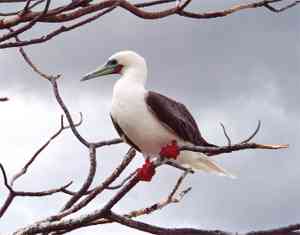 Red footed boobie
Much of Christmas Island is a bird sanctuary, and frigatebirds, boobies, and sooty terns stalk the fishermen stalking the bonefish. One frigatebird in particular grabbed the popper I was fishing out of the water and flew off with it until the slack went out of the line. Then it dropped the popper with a squawk.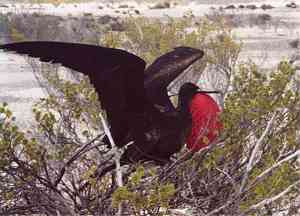 Frigatebird
The bonefish, or "bones" have scales like mirrors, so they reflect their environment as a form of camouflage. They follow tidal flows, feeding on the bottom on tiny shrimp, crabs and the occasional fish. The key to catching one is to see it before it sees you. Then you need to make a cast (generally in a twenty-mile-per-hour wind) that places the fly close, but not too close to the fish. When the bone is in the three foot or so radius of your fly that seems to be the fish's circle of visibility you give the line a twitch to get the bone's attention. Then strip slow or fast, depending on how the fish is responding.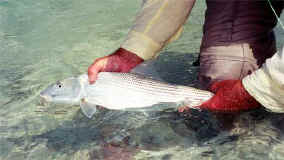 Bonefish
This was tough the first day, but after some practice, I was able to spot fish in bright sunshine in shallow water. The guides' vision is amazing; they are often able to see fish at eighty feet or more in riffled water. Their instructions come: "Bone, forty feet, one o'clock. Cast now. Cast again, five feet to the left. Wait. Strip slowly. Wait. Short strip. Short strip. Long strip. Fish on!"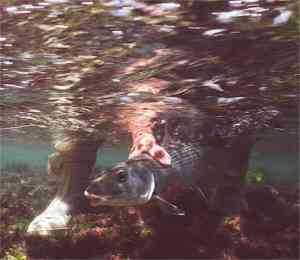 Steve Anderson's bonefish
Translated, this means that the guide spotted a fish, had you cast to a spot, you missed the first time and had to recast. Then a strip to get the fish's attention, several more as he chased the fly, then a long strip to set the hook. Takes are gentle, so oversetting can be a problem for those used to ripping the lips off other species. You need to be quick about clearing your line and let it stream out unimpeded until the fish is on the reel. Then be prepared for several reel-smoking runs. A light reel not built for saltwater can be toast after a couple of these amazing fish.
Some purists might complain that this much guiding is a bit like being talked down by Mission Control, rather then flying on your own. Fortunately our guides were teachers who helped us learn how to spot fish on our own. One good tip was to watch the fish swim away after it was released, to see what it looked like in the water. Of course you had to catch a fish first to do this. By the end of the week I was able to spot fish at quite a distance, but not in all water and light conditions. Seeing, stalking, casting, presenting and hooking a decent bonefish without assistance was nearly as big a thrill as the giant trevally. One of the advantages of Christmas Island for novices is that the abundance of bonefish allow for many mistakes to be made in the learning process, and you still catch fish.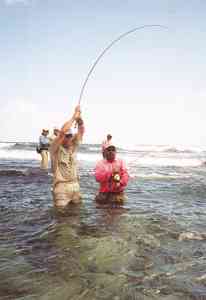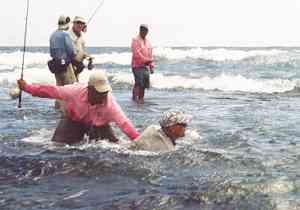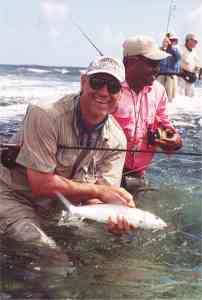 Bill Sarrocco shows how to stay with a bonefish.. Never give up the fish!!
On our last day we fished an area known as the "Korean Wreck" after the remains of a freighter that met misfortune here. Unlike the flats in the lagoon, you fish the trough between the fringing reef and shore. We fished as a group, and several of us were hooked up to substantial bonefish at the same time. Bill Sarrocco survived a face plant in the water to land a big fish.
We stayed at Big Eddie and Joe's Bone Fishing Lodge and Croquet Club, the latest facility catering to fishermen to open on Christmas Island. Small, clean, and comfortable, the lodge is designed by fishermen for fishermen, with no pretensions other than to be a base for some of the best fly-fishing in the world. Unlike flats that can only be accessed by boat, much of the fishing is by wading from shore after being transported via a truck with rod racks. The lodge also makes use of boats as transportation to those flats inaccessible by land.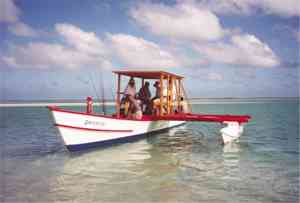 The "outrigger" boat
Previous British occupiers left the foundations, wells and septic system from a hospital and Big Eddie Corrie, former head guide at the Captain Cook Hotel, leased the land from the government. Together with Joe Roope, a tackle shop owner and outfitter from Idaho, they set out to create a fly-fishing lodge that would be an improvement on the government's 30-room hotel. Getting supplies from Hawaii is a hit and miss operation, but no essentials are lacking and many of the island's top guides now work for Big Eddie and Joe's.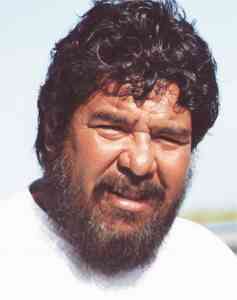 Big Eddie
Each room at the lodge has two beds, a private bath, refrigerator, air conditioning, and daily laundry service. Meals are taken in a dining area-bar that is open to the trade winds. We enjoyed cooked breakfasts, a roll your own lunch buffet after breakfast – sandwiches, chips and potato salad to take along on our day's outing. Water, always a concern in third world countries comes from wells, is tested regularly and is filtered – nobody had a problem while we were there. And the island was blessedly free of biting insects, at least while we were there, though we were cautioned to watch for scorpions.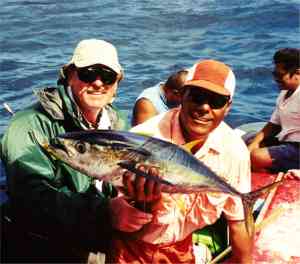 Larry Martin's tuna
Dinners were an opportunity to eat fresh wahoo and other specialties cooked by the lodge's US trained chef. Evening activities include tying flies for the next day, taking a stroll on the nearby beach, backgammon, exaggerating the days' catch, and playing the 'ring on a string" game, trying to swing a metal ring onto a large fishhook attached to a post. Hey, it's a fishing lodge, not Club Med.
IF YOU GO
For many years only the socialist government's Captain Cook Hotel catered to fly fishermen. Now Big Eddie and Joe's offers an alternative. To get there you need to fly to Honolulu. The flight to Christmas Island (an Aloha Airlines plane chartered by the Kiribati government) leaves early in the morning, and there is only one per week, so don't miss it. You will need a passport and visa, which can be obtained for a $25 charge before your trip or at the airport on the morning of your flight from Honolulu. Our group arrived a few days early and did some sightseeing. Fly fishers should visit Hawaii's only fly shop, Nervous Water Fly Fishers, 3434 Waialae Ave, Honolulu, HI 96816, 808-734-7359. You can book a guided trip to fish for Hawaii's peacock bass or saltwater species.
Big Eddie and Joe's provides a comprehensive list of what to bring on the trip, but be advised that there is a seventy pound weight limit for checked baggage, after that there is a per pound surcharge. The most important thing not to bring is an attitude; go with the flow, as you will be in a place with a different sense of what's important.
Unless you have your own Learjet, it may be advisable to check with your insurance agent about repatriation coverage as serious health emergencies are treated in Hawaii. There is a small medical facility in London. There is a scuba diving operation and bird watching, but if you don't fish there's not a lot to do on Christmas Island. Snorkeling is an option, though there are large barracuda and sharks around.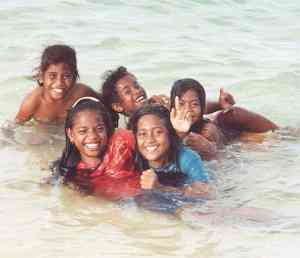 Friendly natives.
While Australian dollars are used as the local currency, US dollars are freely accepted. But you won't need much cash on the island. The fishing package is inclusive of almost everything except tips and drinks, which can be added to your tab and settled via credit card in the US. Blue water fishing from an outboard powered outrigger is available by pre-arrangement.
Fly fishermen will want to bring at least two eight-weight rods (there's no tackle shop) and an eleven or twelve for the giant trevally and barracuda. Fly rods designed for salt water have extra corrosion proofing, fighting butts, and the stiffness to fight big fish. Fly reels will be tested by these fish, so bring the best salt-water reels you can afford.
The bonefish have gotten picky, and you need a selection of flies designed for Christmas Island in various sizes and weights. The guides generally grabbed an orange Christmas Island Special out of my box, usually a size six. The biggest problem I had was that heavily weighted flies we brought often spooked fish in skinny water. I brought tying gear (another good idea) and tied some bead chain eye and Blind Charlie (no eyes) that worked well. I also had luck with tan Charlies, George Bushes (named for a guide, not the President), Yvonne Choinard's Yellow Clouser and tan Chenille Charlies.
Use a 60-pound mono bite tippet or wire tippet for the big trevally, and a short twenty-pound leader tied in a Bimini twist. Or use thirty-pound leader if you don't care about IGFA records. For bonefish a selection of ten, twelve, and fifteen-pound tippet and a ten foot tapered leader is the ticket. Bring some reel and line cleaning materials, and spare parts.
You can save yourself a lot of grief by practicing casting in the wind. While guides are good about positioning you so that most casts are with the wind, you still need to be able to handle a fly line in 15-20 mph winds. Sight fishing bonefish is a game of opportunity, and you will get the most fish if you can make quick, accurate casts up to 60 feet (though you can get by with less). When the guide spots a fish, you will only have a few seconds to make your cast.
Randall Kaufmann's new book Bonefishing! is the best current resource on bone fishing and has an extensive section on Christmas Island. A bit pricey at $79.95, but this is a book you can leave on your coffee table for others to admire its outstanding photography. The best source of fly patterns for Christmas is Dick Brown's Bonefish Fly Patterns. Bring some large poppers for the trevally.
Don't forget to pack lots of at least 30 weight sunscreen and a hat with neck protection as the sun is merciless. A long sleeved nylon fishing shirt and long nylon pants can prevent a lot of sun problems. Don't forget purpose built flats boots as urchin spines can penetrate ordinary booties. It's a good idea to take along spare lines and backing as they can be cut off on coral by a hot running fish. Most folks use a fanny pack. Bring lots of water bottles as you will be out for the day and dehydration can be a problem. A good pair of polarized sunglasses for spotting fish is an essential.
Our guides appreciated cash tips, but seemed to also like things that are hard to get on Christmas Island: saltwater hooks, fly tying materials, and even some basic books and G rated videos (VCR's have arrived) to help their kids learn English. One of the guides mentioned they also need some small hand tools: pliers, wrenches, screwdrivers.
Fishing at Christmas is popular in the winter (it's cold in Montana in January!), but as the island lies very near the equator, weather stays pretty much the same year round.
Malibu Fish N'Tackle will be hosting other trips to Christmas Island. They are located at 3166 E. Thousand Oaks Blvd. Thousand Oaks, CA 91362 (805) 496-7332 website www.malibufishntackle.com Jan and Carole Kurahara will be hosting the next trip in 2002.
Big Eddie and Joe's can be contacted via Pacific Flyfishing Destinations, 350 West Bosanko, Coeur d 'Alene, Idaho 83815 phone 800-410-3133 or visit the website at www.castawayflyfishingshop.com Current cost (2001 season), including meals, Kiribati fishing license, guides and airfare to and from Christmas Island is $2,595.00 US.