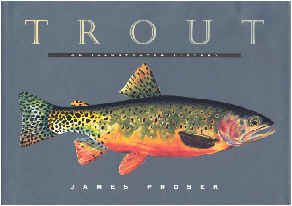 Book Review: Trout – An Illustrated History
by James Prosek

Alfred A. Knopf 1998

ISBN: 067944453X

In the introduction to his first book, James Prosek traces the origins of his passion to document the trout of North America to his father, who grew up in Brazil loving nature and especially birds. Prosek's early years were spent on family outings and pouring over John James Audubon's bird paintings. With colored pencils Prosek copied Audubon's classic works.

Introduced to fishing at age nine, he was soon pursuing bass, bluegill, sunfish, and pickerel. Soon after he graduated to fly fishing for trout, is father showed him an article about a rare type of trout found only in eight ponds in Maine (the Blue Back Trout). Searching the local library in vain for an illustrated book about trout comparable to Audubon's bird books, Prosek decided to create his own illustrated book on the species and subspecies of trout found in North America.

The over seventy original paintings are based on research including historical works, photographs, and of course fishing for as many of the trout as possible.

Prosek includes a history of each fish, and comments on its current status, and likelihood of survival… near nil unfortunately for species believed to be extinct. In the course of reading the book and admiring the illustrations I gained a much better appreciation for the variety of trout populating our country. Not just browns, brookies, bows' and cutts… You can read about and see beautiful paintings of Baffin Char, Silver Trout (extinct), Bull Trout, Apache Trout, Gila Trout, Upper Klamath Lake Trout, Oregon Redband Trout, Nelson Trout, Greenback Cutthroat Trout, and many more.

Pensek's passion for fly fishing for trout, for their beauty, and for preserving their remarkable diversity shines through his book.

One last work about the author. He is an undergraduate at Yale University and produced this book at the age of eighteen!

web

Click here to order this book.