F

or those of you who have fished Piru Creek between Blue Point Campground above Lake Piru and Lake Pyramid you know there are 14 miles of probably the best tail water fishery in Southern California.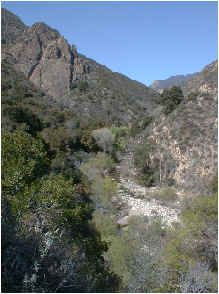 Agua Blanca
Piru Creek has two feeder tributaries, Agua Blanca about a mile upstream from Blue Point Campground and Fish Creek about 3 miles below Frenchman's Flat below Lake Pyramid. The streams abound with caddis and several varieties of small may flies including Tricos and Pale Morning Duns and occasionally a nice stone fly hatch. They are capable of maintaining large populations of Rainbow Trout and given the chance could do so year round.
The problem is that Pyramid Lake can release as much or as little water as they please based on no real formula that I can identify. They can reduce the water flow to as little as 2 cubic feet per second which allows the water temperature to rise into the mid to high seventies in the summer months. They can and have changed the flow as much as 40 cubic feet within 24 hours which can be disastrous to the trout and insect populations as well as the endangered species found around the stream. In reality, Pyramid Lake uses Piru Creek for a water pipe to feed the request of Lake Piru and the agribusiness on the Oxnard Plain.
The real problem is there appears to be no concern for the fishery below Pyramid Lake and for that reason I have contacted Cal Trout to seek help and guidance. On November 4th I met with Jim Edmondson of Cal Trout to discuss the issue and found him to be extremely knowledgeable. He has fished Piru Creek and knows what this stream is capable of. Cal Trout is willing to assist but Jim needs our help gathering the data to clearly prove there is a problem. This will require stream flow data and water temperature data as well as documentation from the lakes required by the government to assure compliance with existing legislation regarding the Clean Water Act as well as other legal mandates.
I have gathered stream flow data from 1986 to 1998 and these data surprised me. They clearly indicate a history of water flow changes with no regard for the fishery or the wildlife dependent upon these waters. In critical months such as May when the fish are spawning, I have identified water flow changes of as much as 100 cubic feet per second within a 96 hour period. Without question, this will cause significant damage to the spawn.
As far as water temperatures are concerned we will need to purchase equipment that will read the temperature hourly at two or three locations on the stream. We will then download this data and be able to demonstrate clearly that water temperatures are reaching the danger zone during the summer months. What will be required to keep the temperatures in a safe area is an increase in the water flow to some prescribed minimum to be determined by Cal Trout and the Department of Fish and Game.
If we prevail in this endeavor, Piru Creek and its feeder streams will provide fine fishing, 12 months a year for all. Without question there is much work to be done to win our case. We will need the support of local fly fishing clubs as well as Cal Trout. I will keep you posted on our progress at the meetings as well as in the news letter.
Joe Richey